What Is The Best Colour For Bathroom Tiles?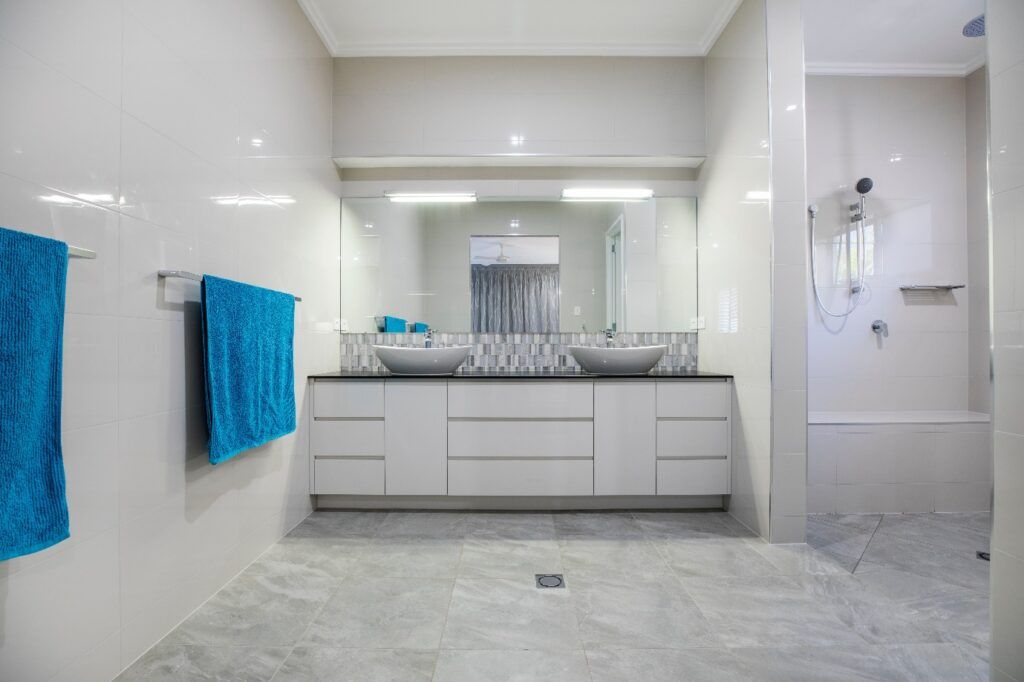 Tiles have been used in bathrooms for as long as any of us can remember. Tiles being used as decoration goes back as far as medieval times in Europe. Designs and fashions come and go but the good old tile has never looked like falling out of favour.
Bathroom tiling serves many purposes. Firstly, a tiled surface, wall or floor, is waterproof. So as a splashback over a sink, or an entire shower cubicle, water simply runs off them. This also makes them easy to clean and maintain.
Using tiles as decoration offers so many choices of texture, style, sizes and colours.
So how do you go about deciding on a colour for your bathroom tiles?
Classically, bathroom tiles have been white, normally with a high gloss finish, and following a uniform, predictable pattern. This look is still popular and works with any other design features and colours in the bathroom.
Should you wish to move away from this blaze of white, maybe it's time to consider another colour scheme for your bathroom.
The wow factor – Are you looking for a big impact with your design? Whatever main colour tile in your bathroom, consider introducing a bright patterned tile around a feature such as the bath. A feature tile behind a roll top bath will really stand out.
Make your tile the feature – If you can't resist a shiny black slate look, some huge marble squares or a beautiful mosaic then embrace that. A plain style in the bathroom suite will allow your tiles to show off with big bold colours or unusual patterns.
Size matters – In a small bathroom, it is possible to create a feeling of more space. Choosing a neutral, light colour such as beige, cream or light grey will help ease any claustrophobic feelings.
Natural light – Light, neutral colours are great for reflecting natural light to create an illusion of space in a small bathroom. But what about if there are no windows. This is surprisingly common in bathrooms. A soft green, pearl grey, yellow, aqua or classic white will soften artificial light.
Create your a modern mood – Bright and bold colours create an intense atmosphere. They work really well when the bathroom has neat, uncluttered lines and fittings. Emphasise this feeling by using bright, strong, high gloss colours alongside a bright white.
Create a more relaxed mood – A calm, relaxing atmosphere might be perfect for your bathroom. Choosing soft, pastel colours such as baby blue or gentle pinks can have a soothing effect in the bathroom. These colours work well with a vintage style bathroom, or alongside shabby chic design features.
MIx it up Using a black and white tile pattern gives a stately, classic feel. Experiment with more combinations. A bright, vibrant colour alongside a softer pastel colour can make your bathroom feel unique. Mimic colours from the seaside or countryside to bring an outdoor feel to the bathroom.
Colour choice will ultimately be personal, but it is worth taking the time to look at new and different options to maybe end up with your perfect bathroom.
For all your tiling tips and training needs, get in touch and let us help you get the skills to create the perfect atmosphere in your bathroom.