All construction trades are in demand – but that's especially true for tilers. The UK is currently seeing a mass shortage of wall and floor tilers, which is pushing up prices and creating opportunities.
There are two directions of work for an aspiring wall and floor tiler. One is the domestic market where people remodel their own homes. The other is site work where new homes are being built.
How much tilers get paid in the UK?
Tilers average around £30 – £40 per metre for fitting, or a minimum of £200 per day.
That equates to between £50K-£70K per year for experienced tilers.
Professional Tilers will usually charge around £30 per metre square for fitting ceramic tiles or £200-£250 per day (In the north) or around £45 per metre (in the South) for general domestic tiling work, good tilers are usually always in demand. Think of an average bathroom which is roughly 25 square meters on the walls and 8 square meters on the floor ( 3 days work= £900), a conservatory floor tiling job would be roughly 12 square meters, this should take only a day to complete (£360). Kitchen splashbacks (£200-£250) for the day, both plus material profits.
In addition to these rates above you can add extra profit by selling all the materials and adhesives the job requires to your customers due to buying with discounts through your trade accounts, so if you are thinking of starting a business this is earnings you could expect once you get established and up to speed, a £1000 – 1500 per week could be achieved.
The skills you need to run your own business
Basic maths skills are required to calculate areas and materials, both when you create estimates for work and undertake the project.
A keen eye for detail. Tiling is precise work where cuts have to be measured and made accurately
General fitness and good health. Tiling can be quite physical especially if you have to remove old tiles in preparation for starting a job.
Cleanliness. You have to work cleanly to avoid stains and damage from cement adhesives.
Interested in becoming a tiler?
In these unsettled times, many people are looking at their career options and considering highly skilled trades and self-employment as the logical next step.
UK Pro Tiling Training can help. We offer fast-track intensive professional tiling courses designed to give you the best chance of success.
We can set you well on your way to a lucrative career as a tiler.
CTA: Would you like more information about tiling as a career? Contact us today.
How to find work as a wall and floor tiler
The key to any successful business is marketing. To win as many jobs as you can, large and small, you need to network a bit. Get your name out there. Make contact with as many tradesmen and suppliers as you can.
Find the people who work in complementary trades and can tell you where tiling work might be needed.
Here are some effective ways to promote yourself for the different types of tiling work available.
Floor tiling
Introduce yourself to all the conservatory suppliers, including any window fitters that you can find, and pitch your services.
Consider offering a commission for every job they pass onto you.
Try and find your local shopfitters who are currently working on shop refurbishments. These projects usually need floor tiling done.
Introduce yourself to floor screeding service tradesmen, as they do floors that might soon need tiling.
Kitchen Tiling
Visit all the kitchen shops in your local area and pitch your services with cards and flyers.
Make contact with kitchen fitters and joiners. Customers always ask them to recommend a tiler after they have finished installing a kitchen.
Make contact with electricians. They rewire a lot of kitchen sockets and bathroom downlighters, and tiling will always follow this service.
Bathrooms
Bathroom showrooms and plumbers merchants and also the actual plumbing tradesman is how you will get these jobs.
Tile shops
Tile shops obviously sell loads of tiles and will be asked all the time to recommend a tiler, so it is really important that you get in with the sales and counter staff.
Reach Out to Local Building Contractors
Local builders often work on large projects and rely on skilled professionals to perform vital construction roles. If you have your own tiling business, then you can guarantee that construction companies will be on the lookout for kitchen and bathroom specialists.
Marketing options
Facebook. Set up a business page and promote yourself with pictures and testimonials. Include your contact details with every post.
Church parish magazines. Visit your local church and ask them if they do a monthly magazine or newsletter then ask them about advertising in it.
Estate agents. These are always looking for tradesmen for the property developers on their books, and the properties they rent.
Insurance companies are always looking for tradesmen to correct damaged properties, fires, floods etc. Ring the insurance companies and ask who to speak to about getting subcontracted work.
Checked & Vetted services. These work very well. Ask them what and how they charge for getting referrals to customers.
Vehicle signage. This is essential. Get yourself a van and make sure it displays your business name and contact details.
Setup Google pay-per-click (PPC) campaigns.
How to earn more as a tiler
If you are self-employed or thinking of going solo then having a strategy to maximise your earnings is vital
There is a lot more to running a tiling business than just having great tiling skills. You need to master the basics of running a business. Understanding basic sales and marketing techniques will help you grow your clientele and find projects that pay well.
UK Pro Tiling courses
At UK Pro Tiling Training we can tutor you on all aspects of running a tiling business. Our lead instructor has over 30 years of successful self-employed experience; NVQ Level 1,2 and 3 Tiling, Assessors and Quality Assurance, as well as a teaching qualification. He has personally delivered our tiling training program for more than 15 years.
Want to learn more?
For more on these and other key aspects of tiling, sign up for a course with UK Pro Tiling, the fast-track pro tiling course provider.
How to set-up a tiling business
There is a lot more to running a tiling business than simply attending a course and learning how to put tiles on a wall and floor. Being a great tiler isn't enough. You have to learn effective business skills.
We teach you everything you need to know
UK Pro Tiling Training has been delivering quality fast track career-changing courses for over 15 years and has taught thousands of learners from all over the UK and Europe. Our learners travel because of our strong reputation and the excellent advice we give.
Our instructors will teach you practical tiling skills at the highest level, including all the product and background information.
Our Courses Cover Everything You Need to Know About Creating a Successful Tiling Business Structure Including:
How to get started
Choosing a business name
Bookkeeping basics
How to pay yourself
How tax and NI work when you're self-employed
Marketing your services
Setting up trade accounts
Measuring, pricing and estimating jobs
Keeping ahead of the competition
Darren is the owner of UK Pro Tiling Training and a tiling industry expert with over 32 years of self-employed experience to share.
Contact us today to find out more or enrol in our next business course.
How to create a portfolio of your work when you're just starting out
Potential customers will be keen to see examples of your work. Yet until you've completed projects, there'll be nothing to show. This isn't a dead-end, though. There are a number of ways to put together a portfolio.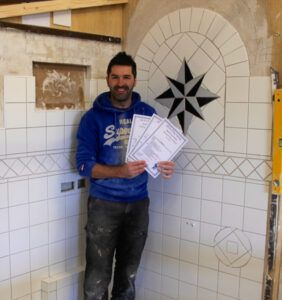 Work with an established tiler
Reach out to fellow tilers. Maybe through contacts made on your course, or by contacting tradespeople in your area. Be honest with your experience too. If you get lucky, you'll get some work which you can then evidence, to show the quality of your work.
It's who you know
Offer to tile your Nan's bathroom or your mate's conservatory floor. There will be people in your network who would be happy to have their homes revitalised for a reasonable rate (or in return for a roast dinner and a couple of cold beers). Maybe that downstairs cloakroom in your own house could do with a splash back behind the sink.
Take great photos
Be sure to take plenty of photographs of all of your work. Use a photograph editor to write a few comments on the pictures explaining the job. If there has been a substantial amount of preparatory work, use some before and after shots too.
Share your work online
Now it's time to get your portfolio out to potential customers and employers.
Create a Facebook Business Page
Using no more knowledge than most of us need for our personal social media accounts, you can create a professional-looking presence on one of the biggest platforms of all.
Instagram lets you take photos on your smartphone and post them immediately online for followers to see. It offers enhanced services for business as well.
How to market yourself as a professional tiler
Website
It may sound daunting but building and hosting a website can be a cost-effective and simple process. Providers such as Wix, Squarespace and GoDaddy offer complete packages with simple to use templates. You'll just need to provide a great description of your services and some quality images.
Facebook
It is still possible to have an effective Facebook page for your tiling business which is free. There are many options to pay to promote your page, and some are worth considering, where you only pay for the number of clicks your posts generate. Use your friends and family to share your page and remember to keep new content appearing regularly.
Blogging
A regular blog can be a productive part of marketing yourself. Do some research and read up on popular blogs kept by other sole tradespeople. You'll find the best ones offer advice rather than try and actively sell. If a potential customer trusts what you have to say they'll be more likely to get in touch.
Google
It is still free to have a Google business profile and you should absolutely have one. Set up a business account and you'll find you can be found across searches and also via Google Maps. You can include images from your portfolio and give all your contact details.
Trade Directories
Paying to be featured on one of the new trade directory sites and apps could be lucrative. As with all digital promotion, fill your entry with as much detail and examples of your work as you can.
Ask the tile shops if they need any displays tiling for free
Tiling displays for tile shops is a great way of meeting new customers. And as the tile shop will owe you a favour, you can suggest that they pass your cards out in return.
The Tile Association
An independent body that has a directory of tilers, and their logo can add some kudos to your marketing material. They can inspect work when a dispute occurs and support you through this. Being listed as one of their approved tilers puts your name forward to the thousands of hits their website gathers each month.
Pinterest, Twitter and Instagram
All social media sites are worth having a presence on. Most offer free entry-level packages for business as well as more premium packages to push your brand. Only use the social media sites on which you know you will have time to post regular content on.
How plumbers can using tiling as a new source of revenue
If you are a plumber who doesn't offer tiling services you could be missing out.
Most customers would prefer one tradesman to complete a multi-faceted job. If you are already handling their plumbing needs why not offer your customer a full bathroom installation service?
Wet Rooms
Wet rooms are becoming quite mainstream in properties all over the UK, from trendy apartments to elderly and disabled bathrooms. Plumbing skills coupled with tiling skills will see you completing these kinds of jobs and raising your earnings potential. Note: the price of an average wet room is double that of a bathroom.
Training
UK Pro Tiling Training is fast track tiling course specialist.
The course will cover practical exercises and detailed product information, to show you what it's really like to tile like a professional. You'll also learn how to start and run a successful tiling business and what's required to install a full wet room, along with tanking systems and aqua trays etc.
Would you like more information about adding tiling services to a plumbing or plastering business? Contact us today.
Starting a new business can be daunting, but our friendly team is ready to help you find success and make your business stand out. We know how to help you learn vital skills such as identifying your target market and reaching out to local customers.
We have extensive knowledge of the construction industry and are confident that our courses and experience can help you create an effective tiling business.