Tiles on a kitchen wall look great. As a result, tiled kitchen walls are popular. Let's face it when we are cooking spaghetti bolognese and stirring the sauce in a pan on the hob, we can just about handle splashes of tomato on the tiles above the cooker. When it comes to red splashes on a wall, however, we cringe. Tiles are cleaner, more hygienic and have a much better aesthetic than plain walls.
Ultimately, tiled kitchens are essential (for most of us clean-freaks anyway!).
The key to a great kitchen tiling job, from start to finish= planning!
The last thing you want to do, as a DIY'er or professional, is poorly plan the project and lose money (and time) as a result.
If you're wanting to make a success of your kitchen tiling job, then read on. We're experts here at UK Pro Tiling Training!
Plan your kitchen tiling project
As with any project, it is essential to plan the tiling effort in your kitchen. This means you will be much more efficient with time and far less likely to make mistakes when it comes to measuring up and buying the tiles in.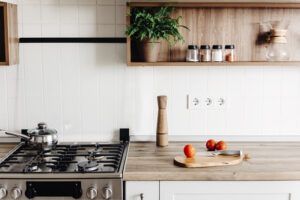 Prepare the space to be tiled
Prepare the space to be tiled thoroughly. Make sure you have removed any old wallpaper or have sanded down your walls accordingly.
If you have just had a kitchen worktop fitted, make sure it is dry and securely in place before tiling around it.
Make sure you have covered everywhere with decorating cloths to avoids any devastation caused by splashes/spillages etc.  
Have everything you need at the ready
There is nothing worse than getting halfway through a project and realising that you've left half of your tools and materials either a) In your van, b) in the other room or c) in the loft (this one is particularly infuriating!).
Have everything you need for the job close-by. While this sounds simple, sometimes when we focus on getting things done quickly, the basic parts of your project can be overlooked!
Of course, when you are self-employed you will most likely have everything ready-to-go in your van. It is important to keep your van organised so you can access what you need, quickly and professionally.
Don't rush and keep the project in good order
Don't worry about taking too much time over a project, it is far more important to do the job properly rather than rush over it.
If you're a professional tiler, you're far better off overestimating your time than underestimating. Your client will be far more impressed with a job done well than a job done quickly.
Be prompt to arrive at the job in hand. Be professional. Be perfectionist over the project.
Search for tips
You can find tips on our website when it comes to tiling projects, you can find various articles in our News and blog section on what not to do when it comes to tiling, as well as how to grout, tips for floor tiling and more. You can even find a guide on how to install multi-coloured kitchen tiles.
Book onto a tiling course with UK Pro Tiling Training
If you would like to learn more, then consider booking a tiling course with UK Pro Tiling Training.