COVID 19. Following a government announcement on 31st Oct, UK Pro Tiling training will remain OPEN, government guidelines state that anyone can travel to venues that are open for education and construction related work. The UK's most trusted tiling centre, over 450 Five star reviews, Delivering Professional Fast Track Career Changing Tiling Courses for over 14 years, Train and stay in our own accommodation to make life easy
Do you want to run your own professional tiling business?
Want to learn how to tile for your own projects?
Are you a company looking to up skill or retrain your staff?
About

U

K

Pro Tiling Training
When choosing a tiling course, you have to choose wisely, after all you are investing in your own future success. Choose on price or location and you could see your investment wasted. Quality education generally comes at a premium
We are the longest professional dedicated tiling training centre in the UK, we specialise and only deliver career changing professional fast track Wall and Floor tiling courses at British Standards Level 3 where as most other training centres are DIY multi skills level where they teach a bit of every trade. We have a fantastic purpose built tiling training centre for you to learn how to tile in and due to our superb reputation over 14 years, we train people from all over the world who travel to us. Want to tile like a pro quickly and run a successful business, then come to us, the tiling specialists.
We have our own private accommodation so don't worry about finding somewhere to stay whilst attending your course, we take care of it all.
Not Your Average Tiling Centre
Think all tiling training centres are the same, they are not, don't just attend your local centre because they are cheap or close to you, choose very wisely where you go, most of them are a basic DIY introduction to tiling and you will be taught by just an employee of that company on a wage, not the owner of the company. If you're looking to go self employed as a tiler then you're wasting your time, money and future learning at a DIY tiling level. We have trained many people who have had to come to us for professional instruction after attending other training centres.
Not Just a Tiling Course \ Career Change Specialists
You only have to read through our testimonial reviews on the right to see
why we are not the same as any other training centres, you can go anywhere to learn to stick basic tiles on a wall however there are 3 levels in tiling and knowledge and we teach at the highest possible (NVQ level 3), couple this with how to succeed in a tiling business and self employment skills Darren teaches there is NO other centre delivering our 14 year proven Self Employed Tiling Program. Try and find another tiling centre with the hundreds of verified 5 star positive reviews like what we get and the amount of peoples lives we have changed for the better. They all can't be wrong.
Expert Tutors
Darren, qualifications held, NVQ level 1,2 and 3 in Tiling, A1 NVQ assessors qual, PTTLS Teachers qual, Level 4 IV Assessment qual, 14 years teaching experience in tiling.
A course is only as good as the teacher who trains you and you will be taught personally by the owner of UK Pro Tiling Training and his team, Darren who is one of the longest and best tiling tutors in the UK, with over 14 years experience of actually privately teaching tiling at the highest level NVQ 3 along with over 32 years of successfully running business, he can certainly get you where you need to be running your own tiling business, mentally and practically. Our tiling units are specially designed to give you real life situations to practice in. We are here to pass on all our trade tiling and business knowledge to you and give you the best start possible in your new career or the ability to tackle your own personal wall and floor tiling projects in the quickest possible time.
Earnings
Good quality tilers can earn between £1000-1500 + per week once established, some of our past students are now making much more running their companies having gone beyond being a sole tile fixer, let us show you how maximise your earning potential as a tiler. Please check out our FAQ at the top menu bar to see how we differ from the rest and why so many people travel from all over the UK and Europe to train with us.
Gain an NVQ Tiling Qualification
Our fast track tiling courses are designed specifically so you can go straight out and work as a self employed tiler once you have completed our course in the domestic market with our course advanced tiling certificates.
If you require an NVQ after completing any of our courses to go onto a building site and work, you can be assessed for the tiling NVQ L2 qualification OSAT route where an assessor will guide you through the requirements of achieving the qualification, there are local fees payable to your assessor for this in your area, this qualification along with a CSCS card will allow you to trade and work on all building sites. CLICK HERE to find out how to get NVQ qualifications.
Elite aftercare package available
After leaving our course, you may feel that you will be alone to get on with it which can be daunting, Not with UK Pro Tiling Training, as well as the 15,000 word, 50 page pre written hand out course notes to refer to, you can
have Darren's full contact details and personal elite aftercare support, not sure of a job coming up or unsure about anything, just let him know and he will give you all the reassurance and back up you need 7 days a week, even on the evenings after hours. No other training centre offers this level of personal aftercare and back up to you, We take it personally to help you succeed. click here Elite Aftercare Package for more details
Our business is to help you succeed in YOUR new tiling business.
What Tiling Courses UK Offers
More Useful Information
UK Pro Tiling Training  have trained thousands of people from all over England, Scotland, Ireland and Wales who have traveled to us because of our reputation and the high quality of our short college tiling training which we have delivered on our courses over the last 10 years. You will gain a very good understanding of whats required to become a Wall and Floor Tiler which are generally always in demand due to ever changing property markets. Good quality tilers earn over £900 + per week once established, Think of all the bathrooms, kitchens, conservatories and cloakrooms that are being re-tiled, you could be carrying out all these lucrative jobs after completing one of our fast track tiling training courses. We know that there is more to being self employed than just being a good tradesman and that is why our fast track tiling courses teach you much more than simply being exceptional at your craft. Uk Pro tiling run a variety of intensive fast track courses with proven programs which have run for over 10 years.
Our typical course durations
UK Pro Tiling training supply all the tiling equipment and tools for you to
complete the tiling course.
If you would like to purchase professional tiling tools you can do so from our tools shop, from individual tiling tools to full professional packages to get you started are available at discounted prices.
All tools are in stock to take away with you or we offer a postage service to anywhere in the UK.
To go to our tiling tools page CLICK HERE
You can also find a range of equipment and safety clothing at the ESW safety shop.
1 Day Tiling Course
This 1 Day Natural Stone and Business tiling course follows on from
the 4 day intensive tiling course and teaches you everything about dealing with natural stone tiles including identification, fitting and sealing them.
This course also shows you how to deal with all the different tiling problems and situations once out in the real world from understanding wet rooms, tanking systems, movement joints, under floor heating, anti crack mats, cement backer boards, diamond, brick and herringbone formation tiling.
Included in this day is our advanced business program on how start and run a tiling business and maximise your earnings as a tiler, learn the best marketing routes, sales and negotiation skills and how to understand your customers and reap the rewards. A very important day if you want to earn a great living from tiling. This course will absolutely open your eyes into how much money can be earned from a tiling business.
Course runs every Friday. Price £150 Inc VAT
Please click HERE for full details on this course.
4 Day Tiling Course
Our 4 Day Fast Track Professional Tiling Course maybe short but certainly delivers the goods and is
taught at the highest professional tiling level (3), it is an intense practical course to learn how to tile correctly fast, it also covers all the background preparation and products required when tiling, comes with a huge pre written 10,000 word hand out.
Do not confuse this with other DIY tiling courses around, this course delivers what you need to know to tile out in peoples houses.
Look through the testimonials / pictures / videos and course content delivered on our courses and compare it with any other training centre in the UK, we offer you so much in a short time,  you will see why so many people travel to us from all over the world for our fast track training programs.
This course runs every week throughout the year.
4 Day Course Price £499 Inc VAT
Please click on HERE for the full course details / pictures / videos etc.
9 Day (Ready for Work) Tiling Course
This 9 Day Ready for Work Professional Tiling Course is for anyone seriously thinking of a
new career, This course can fast track you with all the information and practical skills required to get you started in a new wall and floor tiling business, learn everything from how to run the business to practically doing the job and everything in between. Simply finish this course and then you can start your business.
The practical level and info received on this 9 day course matches many of our competitors much longer courses, just compare them and see what value your getting for your money by training with UK Pro Tiling Training.
This course runs every week throughout the year.
9 Day course Price £1299 Inc VAT 
Please click HERE for full details, course content, pictures and videos on this course.
13 Day Ultimate Tiling Course (Full Course Itinerary)
Our  13 Day Ultimate Professional Tiling Course for anyone that needs the utmost confidence
before you step out and embark on your own self employed tiling career. No longer course is necessary. Finish the course and trade as a tiler.
This professional tiling course covers all your business success knowledge, background prep, tiling to plans, bespoke tiling work etc and plenty of tiling practice to master your new skills.
This 13 day course consists of all of our other courses combined into one plus an additional 4 days of more intensive tiling scenarios.
This course runs every week throughout the year.
13 Day Course Price £1699 Inc VAT
Please click HERE to find out more about this course.
Review; I just want to thank you for an excellent course. The information and practical work covered throughout the course, especially the business part was first class. I have put what I have learnt into practice and I have my first job starting tomorrow. 64sq meters of floor tiling @ £20 per meter, but I have also made £400 on the tiles, adhesive etc, £1680 payday. Best thing I've ever done
While were on the thanking procedure for our careers I would like to thank Darren at UK Pro Tiling Training for the opportunity and knowledge that man gave me. I attended the two week tiling course with very little knowledge of tiling industry and stuck in a job i hated. All of his tiling trade secrets and business knowledge were passed onto the class which were outstanding, without a doubt the cleverest business wise man I have met and without his knowledge I wouldn't be where I am today.
Course Enquiry
If you have any questions about any of our courses please call Tracey on
0333 335 0604 / Mobile 07960 286957
If you would like a call back click the 'Enquiry' form, we will get back to you ASAP.
Click Here To Enquire About a course
Change your career path today for a career in tiling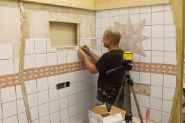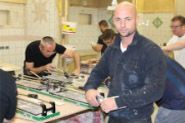 With us, you'll learn how to become a qualified tiler who can deliver high quality work and grow a successful tiling business. You'll learn how to tile, how to tile metro tiles, how to grout, how to shape & lay tiles and much more!. You'll learn the differences between ceramic tiles, glass tiles & applications. We're one of the UK's best tiling schools where high quality education is at the forefront of our business.
It's important in life to work in an industry where you can be happy with what you do whilst earning a good income. Job satisfaction is key, which is why the tiling industry is a great industry to choose.
Combining fantastic earning potential with the freedoms and flexibility that you'd otherwise not get in a standard job.
With UK Pro Tiling Training, we'll help you change your career path fast, with us, you won't just learn how to tile, you'll also learn how to run a tiling business. From getting setup as a tradesman through to establishing yourself locally. We'll also help you evaluate what you should be charging for your services as lots of potential customers will always wonder how much do tilers charge or what are typical rates to get a tiling professional in to quote for work.
There are many skills which you simply can't be without as a professional tiler. If you feel you are lacking in any of them, then we will certainly have the course for you. You might already have all of the practical skills, and maybe have checked.

Love it or loathe it, social media is here to stay. And it's not just about sharing pictures of your dinner or your cute pets. Using social media accounts could be one of the most efficient (even free) ways of marketing your fledgling tiling.