It is, of course, possible to get a luxury tiled finish without breaking the bank. After completing your training with us, you'll be looking for a perfect, classy finish to every tiling job. But, there are some tiles available which are guaranteed to attract admiring glances.
Let's have a look at a few which you really wouldn't want to drop or crack when cutting them.
What better place to start than with the LuxTouch diamond encrusted, mother of pearl laden beautiful floor tile. We haven't seen one in the flesh unfortunately (they are reportedly only used in 5 settings around the world) but have no doubt they are something to behold. At $1,000,000 per sq. meter, they are unlikely to be popping up in your local DIY store.
That extravagance may seem ridiculous to us, but we can look to offer an exclusive look without needing a lottery win.
Italian Marble – Marble has a history of adorning palaces and the residences of the rich and famous. Originating in mountains and sliced, processed and polished to become the fine tiles we end up working with. Being completely natural, there will not be two tiles which are exactly the same. This gives customers the feeling of exclusivity when their homes sport some beautiful marble. Installation needs to be perfect the first time, removing and replacing marble tiles is unlikely to go unnoticed. Floors should be protected and sealed to prevent moisture ingress, staining or scratching.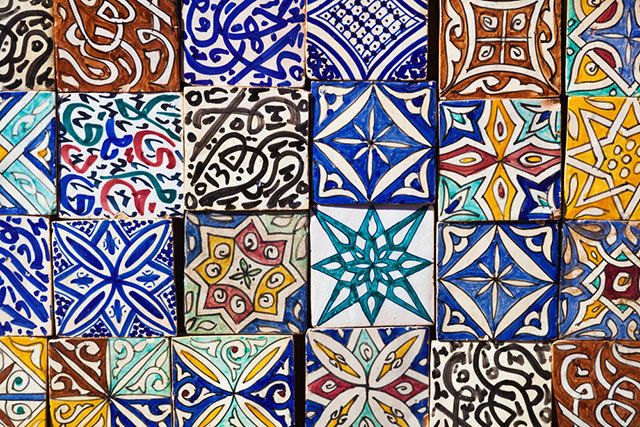 Granite – High quality granite tiles are also farmed naturally and therefore offer a level of individualism. Granite might not quite have the deep lustre of Marble, but there are so many variations in colours and patterns naturally occurring, they can feel just as special. Granite is tougher too, a lot less prone to chipping or scratching. That said, polished granite will need to be treated and re-polished periodically to preserve its luxurious appeal.
Brazilian Black Slate – Slate is naturally non-slippery and can be used for indoor or outdoor projects. The primary method for creating slate tiles is to split and then cut huge pieces of quarried slate. This can produce uneven and unpredictable sizes, making laying the tiles more awkward. The very best slate is machined to achieve a more uniform size and less variations in the thickness of tiles. Slate needs to be treated and coated as it is naturally porous and likely to stain. Slate not only works well on floors, a feature wall of slate can add another dimension to a bathroom or kitchen.
Whatever price range the tiles you lay come from, the ultimate goal is to achieve a faultless, top drawer finish. Any of our courses will get you on the way towards reaching that goal.
Get in touch today  to book onto one of our comprehensive tiling courses.