Do you want to start a successful tiling career?
UK Pro Tiling Training offer wall and floor tiling courses for experts and new tilers at our specialist training centre. Whether you're a tiling beginner and want to learn one of the most profitable trades in the construction industry or want to brush up on your skills, we have a range of tiling courses available.
Our tiling training courses will deliver the most advanced tiling knowledge and craftsmen tips for top-quality tiling.
Short and long tiling courses
Our short 1 day and 4-day courses are a great starting point for any potential tiler. The skills taught in the shorter courses are the same as those taught in the most advanced courses.
In the long courses, there is more time available to practice tiling skills. There is also more thorough knowledge and tiling business know-how included.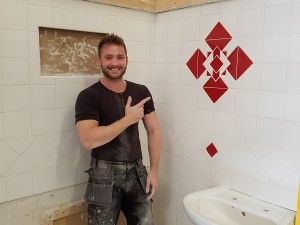 Find a tiling course to suit you
Some attend our short courses because they are developing a property. They want to have the knowledge and skill to do the tiling themselves, mostly with ceramic tiles.
Others join the more intensive sessions to acquire tiling certification training, namely an NVQ and set up their own tiling business.
Run a successful tiling business
Our longer courses teach every element of running a tiling business. From the best teacher possible! One who has achieved great success from running a tiling business for more than 30 years.
Supportive tutors
Darren is an extremely supportive tutor and trains tilers to run successful tiling companies. He has a lot of experience delivering tiling knowledge and keeps up to date with the latest practice.
Many of our students have gone on to great things, because of Darren's commitment to delivering expert training and making sure each person has hands-on experience.
Due to our excellent reputation, students will travel to attend our courses. People attend our courses from all across the UK to benefit from one of our fast-track programmes.
Our tiling programmes deliver
Our programmes have proven to deliver results. They have successfully led people to start a thriving new business, with their own team of employees.
Complete any of our wall and floor tiling training courses, and be ready to commence tiling straight away.
Start a new career in tiling with our more intensive training packages. Such as our 9 day advanced or 13-day ultimate tile training courses. Gain the skills and knowledge to start a successful tiling career.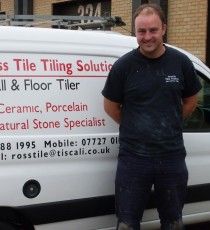 UK Pro Tiling Training offers everything you need to start tiling for a living.
Tiling Training
Please find below our tiling training courses:
10 Reasons to train with UK Pro tiling training.
Our tiling training centre is one of the only facilities in the UK.
We have over 30 years of tiling experience. And 15 years delivering professional fast track tiling training courses.
Our fully qualified L3 NVQ Tiling tutors have considerable experience.
We give expert advice on finding work and pricing jobs. As well as selling your services and how to start a tiling business.
1000s of learners have trained with us from the UK and Europe. They have even travelled as far as Australia!
We are easy to find with local accommodation from £25 per night.
We receive lots of 5-star verified positive feedback and testimonials.
Our learners receive one of the best pre-written tiling handouts (40 pages, 10,000 words). Take the handout away for reference, written in chapters for easy reading.
We provide a full personal backup knowledge aftercare service.
We offer no-nonsense fast track tiling courses with proven programs which work and deliver the goods.
Our business is to make YOU a successful person running your own tiling business.
Thinking of a change of career into wall and floor tiling? Or do you have your own tiling projects to do? Our courses will not disappoint.
Why Begin a Tiling Career?
Finding a sustainable career path in a world that continues to evolve with new technologies can be challenging, but the tiling trade is a practical choice if you would like long term career stability and the opportunity to gain a qualification.
While some people choose to work for a construction company, others might go on to run their own business, and help others enter the tiling industry.
If you want to build a sustainable future that enables you to become a professional then our range of courses is ideal for your needs. Whether it's a 5-day pro tiling course to get you started, or advanced tiling courses to renew and update your construction industry skills, we can help you.
Our students go on to:
Full-time employment with the qualifications we offer
Learn new skills and develop professionally
Practice and offer unique tiling techniques
Become experts in all aspects of wall and floor tiling
Phone Us Today
If you'd like more information on our courses, tiling professionals are on hand to answer your questions and advise you on which is best for your needs.
Whether it's beginner training or advanced tiling courses, our team will give you the best opportunity to become a tiler and enjoy the benefits of this exciting and lucrative trade.
Telephone Tracey on
0333 335 0604
07960 286 957 (Mobile 9am – 7pm)
To find out more