UK Pro Tiling Training have been running professional tiling courses for over 12 years now from our UK Trades Training centre and we have had hundreds and hundreds of positive testimonials and comments left on Independent Tiling and construction forums over the years or sent back to us by e-mail or letter about how past trainees have found our courses.
They have travelled from all parts of the UK and been very pleased with the training they have received, here are some of our course pictures and testimonials about our training.
Please also visit our Facebook Page at the bottom of the page to see more current images of students work and additional testimonials. Please give us a like.
Testimonial update: Adrian (Wales)
Just an update from where I currently am 6 months after completing a 9 day tiling course with Darren at UK Pro Tiling.
After I finished the course I started to get then all rolling and start advertising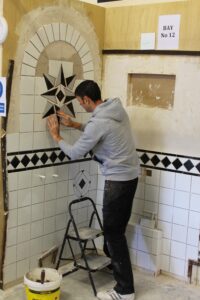 at all the places that Darren recommended, I also payed a visit to local tile shops and opened traders accounts and left business cards/flyers. Within a few days I had my first job laying a uncalibrated slate floor and being a little nervous i contacted Darren who immediately responded even though it was a weekend evening. This sort of service is not available with any other centre.
Within a week I had left my dead end job and created my own tiling business and I have been working 7 days a week to keep up with demand of the amount of quotes that I am winning due to the training and tips given by Darren, I am averaging 90% success rate on winning my jobs. In the six months I have been trading I have also been able to give something back to the community by being able to sponsor a girls under 12 football team. Since starting business it has been the best thing that I have done and my only regret was I wish I did it sooner.
If you are hesitant in any way I would suggest speaking with Darren or Tracey and enrol on one of their courses, you will not regret it one bit and the after course support is fantastic, Many thanks to Darren and Tracey for helping me achieve my goal. Best wishes Adrian
---
Testimonial Mark (Nottingham)
I have just returned from a 5 day course at UK Pro Tiling Training.
This man is the business. Every minute of this course he devotes to his students. He has had a superb career and within minutes of being in his presence you will understand why. He understands tiling and customers like no one I know. Not only will you walk away from this course having completed it knowing everything there is to know about tiling but how to project yourself above all the competition.
This course is not for the faint hearted. My head was pounding on the Friday by 5am but come 4am Saturday morning I was wide awake in bed and had tiling on my mind. Crazy I know but he fills you with so much confidence and knowledge that you just want to get out there and tile the world.
There are many courses out there but non could come close to this one. This course is delivered with over 30 years of dedication and experience and I believe this is what sets him apart from all the rest. He wants you to succeed and take everything possible from the course.
Couldn't not mention his wife Tracey who is amazing and helps settle the nerves and keep you hydrated all day long. I also had the pleasure of meeting his son who by now is probably a master tiler as he already had betters skills than me and he's only 8 years old.
Great family, great course, now do as I did and ring them. You won't regret it. Well you might, but only if you don't ring!
Thanks, Mark (Nottingham)
---
TESTIMONIAL; Paul (Northampton)
I have just come home from the full 13 day ultimate course at UK Pro Tiling
Training in January 2016, it was a 400 mile round trip for me!
I picked the course after reading every bit of info i could find on all the different courses out there. I made a good choice! As will you if you read all the tiling forums and reviews online about this company.
Ive never done any DIY before and had never cut a tile in my life!
Ive always loved the look of granites and marble tiling and as there is a part of the course dedicated to these materials, I knew this course was for me.
From day 1 you will be shown how to use the equipment properly and everything will be demonstrated to you, then you will do it yourself under Darrens supervision.
I lacked confidence in my ability to do this kind of work as the course looked intense at a very high level but was willing to do exactly what I was told and by the end of the course I am now 100% confident in my ability to do a excellent job.
I have paid tilers to do work in my house over the years and the standard they have produced is inferior to what I can now produce! (Take a look at the pictures of my work done on UK PRO TILING TRAINING FACEBOOK page, its unbelievable that you can start from nothing and end up with this standard, i wouldnt have believed it had it not have been myself doing it). Along with the tiling skills there is a huge amount of background and product knowledge passed on which is all backed up with a detailed handout on it, on top of that Darren gives you a full insight on how to start and set up your own business with keeping accounts, finding work, pricing jobs, trade accounts etc, this course really has it all
Darren and Tracey have been running this course for over 10 years, Darren really knows his stuff inside out and has the ability on how to get you achieving work you never thought possible.
Highly recommended Paul (Nottingham)
Testimonial: Bob, 9 day course
After extensive research in to which tiling course I would attend, I was pleasantly surprised to find that UK Pro-Tiling were in a transition to relocate from South Shields to Hartlepool. For my circumstances this was ideal, and very convenient making my decision much easier. I would like to point out that distance from my home location was not an issue and as most of the courses I have attended during my working life has been conducted away from home. After attending the 9 day Pro-Tiling Course I was extremely impressed with the final outcome. The knowledge gained not only in theory, but most importantly in practical aptitude in such a short time is nothing short of miraculous. I am always wary of the authenticity to testimonials, however I can after attending the course concur that they are true and correct. I cannot praise Darren and Tracey enough, to how the course is run from start to finish.
I will bullet point my main thoughts. The course is enjoyable and highly informative, practically and in theory.  I believe after looking into other courses that customers could not gain the amount of practical work and the high standard achieved after the course anywhere else in the UK.  Darren and Tracey are very approachable and accommodating. Once the course is finished you have the added reassurance that you can contact them personally for any situation you may be unsure off. I have never tiled before and was astounded at the level achievable during this course  Whether you are planning a carrier change or you wish to conduct your own private projects, this course will facilitate any situation.  Please read the other testimonials as i believe they are very accurate.
For those who may be hesitant to travel to attend this course. I would strongly recommend you invest the extra money required for travel and digs. Bob
---
Testimonial Chris 9 Day Course 
Good afternoon Darren and Tracey, Just want to thank you again for an extremely friendly welcome and we'll delivered course.
I am very impressed with Darrens teaching style, seems impossible to believe how much you can learn in 9 days but I have.
Don't think there is any situation that has not been covered.
Not only do I feel competent to go out there and start tiling I also have
learned all the skills in which to build a successful business.
Suppose the rest is upto me, All the best at UK pro tiling.
Kind regards, Chris Mcgill.
Testimonial:  Danny (Glasgow)
This is the only course that i have been on that Ive never yawned once, you are kept busy with practical and interesting knowledge from start to finish. The course was professionally taught, full of good laughs and perfectly structured, the tiling course covered everything possible with any questions answered with professional knowledge and honesty. The techniques are so simple to follow because the demonstrations are really clear from Darren and straight to the point, the 5 days flew over so fast and after every day the class was left buzzing and motivated. Well worth every penny for the amount of knowledge that is passed on, its incredible how much you take in a short space of time, there were cheaper and more local tiling courses around and i checked them out but this one stood out and certainly delivered and i am glad i chose this one. Danny (Glasgow)
Testimonial Gabor (North London)
Ive just finished a 5 day wall/floor/natural stone course up at UK Pro Tiling
Training  (formerly known as NETT) and have to say the course was excellent! You will be surprised how good you can get in a very short space of time. Apart from learning loads on the practical side, where the course really excels is from a business standpoint. Darren has been/still is an extremely successful businessman and teaches his principles of success in a very easy to understand and clear way so that the average tiler can very quickly become a "Businessman working as a tiler and not the other way around. Ive been in the game for 15 years on and off and just felt it was time to re-train hence the reason for doing the course in the first place. But like I said earlier, the business aspect was a real eye opener and definitely feel that if I follow what has been taught down to a tee without deviating from the plan then work will be flowing in within a few short months. Highly recommended Gabor
---
Gabor; Update after UK Pro Tiling Training
Thought I'd give everyone an update on how things have gone since completing Darren's course at UK Pro Tiling Training 4 months ago to maybe help anyone else who is thinking of a career change.
Being a builder for over the last 15 years and have done my share of tiling jobs  but could never really call myself a proper tiler which was the main reason  for going on the course in the first place and finally learning how to do the job right., There is a huge difference between what i was doing and what was taught on the course.
The course was superb with everything that is needed to know about tiling taught in an easy, very straight forward fast track way.
Once you have been taught all of the tiling skills, the first things Darren advised everyone to do was to get a website built as most tradesman don't have one and also to have a good marketing plan in place which is crucial for getting the customers in as quickly as possible, So, the day after the course finished I found someone on recommendation and I now have my very own website Hampsteadtiling.co.uk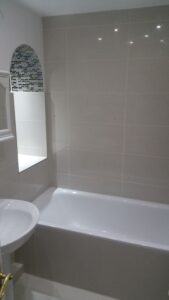 Soon after leaving with my new tiling skills next thing was to start getting some business in. I confidently walked into all of the well known tiling shops in my area and simply asked them if their customers ever needed a tiler. Not one manager said no and asked for my Business cards, which i handed over.
Cutting a long story short, within about 6 weeks of walking into that first shop I had a steady stream of work, which has never stopped and is constantly growing. It does also helps to "take care" of the managers that pass on the work!  This is my latest tiling job.
Another thing I found is that it doesn't take long for the other tradesman to start noticing your work if done well. As I mentioned earlier, I had done a lot of tiling prior to the course but never got anywhere near the type of praise coming from the other trades as I do now due to that high standards and speed of the completed work.
Those same tradesman are now recommending me to their own customers and good quality paid work have subsequently followed.
The long and short of everything that has happened so far after completing Darren's course is that I now "feel" like and can talk like a top end Tiler as opposed to just acting like one which comes across to everyone I speak with.
Anyone who's thinking about doing the UK Pro Tiling Training course for whatever reason, a career change or maybe just learning how to tile correctly, I highly recommend Darren at UK Pro Tiling Training who will get you where you want to go in the absolute shortest possible time, everything is covered in depth on the course from how to tile to how to run a good business.
Thanks
Gabor¨. Hampstead Tiling
Testimonial: Chris (Devon)
Course done 9 Days Ready for work
Big thanks to Darren and Tracey, To be honest I went to UK Pro Tiling Training with no experience what so ever. Im currently in the Print/Graphics trade looking to re-skill.
The course was excellent from start to finish and will explain preparation of work from surface loads to how far realistically you can work on uneven walls. It will cover what adhesive to use and where. What primers to use, what spacers, what tiles, what equipment. How to get work, where to look for it and how to measure up and quote for jobs. It will cover how to lay out a room so you no where every cut will lie and what it looks like, regardless of whether it is floor or wall. It will show you how to make your own features and borders from the tiles being used on the job to add value to your service. It will show you how to tile on different floors, when to lay ply, how to tile on different floor materials when they meet on a job. Practically you are put through your paces with different aspects of tiling completing everything you would come across in a bathroom or kitchen
I left the course on Thursday and in a short time after leaving i have managed to secure myself 6 jobs now over the coming month. One is a complete bathroom tile out for my parents, one a floor for a friend and a further 2 floors, kitchen splash backs and a half height bathroom and floor tile out for another customer who my plasterer mate is currently working for. Im not chucking in the day job just yet though these will be weekend work until I can build up my experience and speed.
All in all money well spent, the course is very well structured and polished, Darren runs a tight ship here, extremely knowledgable in tiling and business and everyone on the course did very well at the tiling challenges set.
Tracey is a lovely lady who has your best interests at heart from first enquiring on the phone to leaving the course she is very friendly and helpful
Highly recommended if your looking for a quality tiling course that can deliver the goods, Chris.
Testimonial:  Dave (Manchester)
Hi , Just thought i would give you my feedback about my 2 week tiling course with UK Tiling training, it was excellent, Darren has over 22 years experience and it shows, he has managed to cram all his teaching, practical and theoretical experience into a very well organised course, it is truly amazing how easy it is to follow, i am a novice and was a little worried before attending, when i got to the course i found that most people were the same as myself, Darren put us all at ease straight away and told us that he would have us creating tiling work to a high standard very quickly and boy was he not wrong, by the second day everyone was settled and producing work to a standard beyond what we all expected. The course covered everything starting on Monday morning how to run a tiling business from pricing, measuring, dealing with customers, keeping accounts, paying yourself wages, finding work etc, this was a real eye opener and made total sense the way it was delivered, throughout the course there are demonstrations Darren does for you to follow, the way they are broke down its impossible to get it wrong, By day 3 we were creating bespoke tiling work with intricate cuts with matching borders, the tiling course was just great with every day learning about new situations and how to overcome problems that you would find outside of the training centre on live jobs, after the 2 weeks i was totally confident to leave and take on a paying customers job which is exactly what i did, the job took a little longer than i thought but the customer was very pleased with the results, all the knowledge gained on the course came flooding back, Thanks a lot Darren for the tiling course and all the best for the future. Dave. (Manchester)
Testimonial:   Charlie (Nottingham)
Hello I completed a two week tiling course at UK Pro Tiling Training and
would just like to say how great it was, from the moment of enquiring about the course to the end i couldn't fault it one bit, Tracey is so lovely on the phone and genuinely helps you as much as she can and Darren who started the course over 10 years ago and still delivers the tiling course was very professional, straight to the point with no messing, maximum learning in short time is what he says and this is what he does.
I travelled quite a way from Nottingham to come to this course as it was recommended to me, there were cheaper and more local courses but i feel for what i paid there would be no way i would receive the amount of practical and hand out information as i did, Darren gives you a full back up service after leaving the course as well which gives you even more confidence as well, There was a huge paper handout manual of all the important things like all the different adhesive products we talked about, background preparations etc which is like a bible to you because every situation that you could find yourself in whilst tiling outside is in here. Darren has written this in topical headings with straight to the point bullet information step by step of what to do, it is very easy to follow and a great reference for the future whenever you need it. The practical part of the course is also extremely good, you have to listen because the pace is fast to get all the work done, everyone on my course produced top quality tiling work, in fact if i hadnt been on the course myself i would have found it hard to believe that this is the standard that could be achieved in a short time. I have nothing negative to say and glad i came and would not hesitate to recommend this course to anyone. Thank You Charlie (Nottingham)
Testimonial:   Steve (Kent)
I have been looking for a tiling course for some time now and came across UK Pro Tiling Training on the web, my friend had attended a local training centre in London and found out that it was a basic DIY course, UK Pro Tiling course was not local to me so I had to travel about 200 miles, i booked the 4 day tiling course and the 1 day natural stone course, the course didnt disappoint and was well worth the travel, Accommodation was £25  a night in the local B and B which was of a good standard and close by. It was a career change that i was looking for and was surprised that Darren give us a lot of his self employed experience as well as the intensive tiling training, it was a total complete package for me, the professional tiling knowledge and practical aspects are first class.
There were tools for sale, so i bought a professional starter kit, so now Im ready to go thanks to Darrens help and knowledge, if your like me and thinking of changing career let me tell you its worth the travel and you cant go wrong with this course, comparing information and techniques that i have now with what my friend learned is miles apart, he is gutted, he feels like he has wasted his money, just hope Darren doesnt train someone else in my area who will give me competition. Steve (Kent)
Testimonial:   Paul (Blackpool)
Just thought i would review the UK Trades Training Tiling course, excellent is a one word summary, i booked a 3 week course as this was a career change for me and i hadnt done much before. I chose the course after talking to Darrens lovely wife Tracey, i contacted other courses even closer to home but first impressions count and this is the one place that seemed most professional.
The course has been structured in a way that as the days go on all the pieces seem to fit and fall into place, at the end of each day you were already looking forward to what you were going to do the next day, the course is very professionally taught but there are plenty of laughs and jokes along the way, everything from setting out, which adhesives, backgrounds and preparations, running a business were all included along with the practical challenges set. Overall it was an intense course, Darren pushes you all the way, there are few breaks so you really get what you are paying for which is the pro tiling tuition, considering i havent done much tiling, i would like to think now i am at the standard to produce good quality work for a paying customer. Anyone reading this that is looking for a career change contact the lovely Tracey and get yourself on one of the tiling courses at UK Pro tiling, you will not be disappointed (Blackpool)
Testimonial:   Jonny (Oxford)
Just finished the tiling course at UK Pro Tiling Training and thought it was
well worth the 5 days that i attended, I bought the tools package at the end which proved to me that the standard i achieved on the course was worth the investment, i am now confident that i can make some money from this game, darren has given everyone his contact details for after course help so he is a genuine guy and aims to please with his knowledge.
Tracey keeps you fuelled with teas, coffees and biscuits throughout the course, it is a warm friendly company that is not there to rip you off, very professional indeed. Some people might wonder how can you learn such a lot on a short time course, well i was one, its not until you see how the course is structured and delivered that you appreciate how Darren operates, its through the demonstrations, what he says and what he gets you to do to make you remember what to do, all this is backed up with engagement, enthusiasm and motivation, the course was worth the travel and cannot praise it enough. Jonny (Oxford)
Testimonial:   Dave (Luton)
Finished the 5 day tiling course yesterday and would recommend this course to anyone, i had my doubts whether 5 days would be enough to cover the massive list stated on the program, After the first day the doubts had gone as we covered a huge amount of knowledge, it was a bit of brain overload but in some weird way easy to remember, every day the course did not disappoint, its remarkable how Darren has the ability to get the knowledge into your head. there were 7 people on the course and i can honestly say every single person had produced tiling work worthy of being paid for if it was a customers job, it is not just straight forward easy tiling on the course as well, by day 3 you are designing bespoke centre pieces to go into your walls with matching borders all of which has to be accurately cut by yourself, dealing with out of shape windows and difficult set outs. This has to be one of the best tiling schools about, i cannot see how anyone else could top it in a short fast track course, Thanks again a very satisfied Dave (Luton)
Testimonial:   Russell (Essex)
I had previously done another tiling course at a local training centre but came away feeling that i wasnt confident and learned very little, i was reluctant to spend another 500 quid just in case this one would be the same. I booked on the UK Trades Tiling 5 day course after talking to the lovely Tracey who puts you at ease straight away, there was no comparison between this course and the last, this course is all about practical straight to the point useful information which will make you money through tiling, professionally run and well structured, whether your doing this for your own home projects or looking to run a business it has it all, I learned more in 1 day on this course than the other courses 5 days combined, be careful where you train and spend your money and dont just go to the nearest or cheapest like me, do your research, In my opinion i cannot see anyone having negative feedback about uk pro tiling training courses Thank You Russell. (Essex)
Testimonial:   Eric (Bradford)
Its a great course, lots to take in but if you can listen then you will have no problems, its amazing the amount of stuff that is covered on the course and how much of it you take in, really please with the week which absolutely flew by, Regards Eric. (Bradford)
Testimonial:   Dave (Scotland)
I have done a few DIY jobs that came out OK so started to look for a course to
show how to do it properly, I looked at one fairly close to me in Scotland but kept coming back to UK Tiling training, after talking with Tracey on the phone i booked on. I was expecting an intense course from the reviews and course structure and it didnt disappoint, Darren certainly knows his stuff and there was not one question that he didnt answer fully with lightning response, you could tell there was a great deal of thought had gone into the structure of the course which flowed beautifully, everything possible was explained in great detail from types of adhesives to under floor heating , levelling compounds, uneven surfaces, the list could go on and on, Ive never spent money more wisely. The practical side of the tiling is really interesting and the days just fly by, nobody wants to stop and go home at the end of the day thats how good it is.
Where am i now ? After leaving the course i got 2 jobs straight away after taking Darrens advice on how to find work, i did these at weekends while i remained in my full time job. After a couple of months i had enough work coming in to take the plunge and move into the tiling full time, i got a van and ordered more tools, I am matching my income from my job and can see things getting better as my reputation gets about, i pick and choose the jobs to gain the experience but everyone seems pleased with my work. If you are looking for a tiling course then you can be sure that your money wont be wasted here, Im probably not the first success from this course and i doubt i will be the last Thanks Dave. ( Scotland)
Testimonial:  Gary
I would like to give Darren and Tracey a mention who own and run UK Pro tiling training, I attended the 2 week course with them about 3 months ago, to me it was a near perfect course, very well balanced with the practical and essential knowledge that was given, everything you could ever need to know on how to get started and complete work to a high standard was passed on. I walked away from the course feeling confident enough to go into someones house and do a professional job.
I am so glad i picked this course as i get bored easily but there was nothing boring on this course, everyone on the course is fully engaged from start to finish, 3 Weeks after leaving the course i set up and have never looked back, i now work from a number of kitchen centres and have secured a contract with a letting agency to do all their tiling repairs and work, i also do tiling work for a Fired Earth franchise where some of the tiles are over £300 per metre and confident to do so, i would never had the confidence or knowledge to do this without going on this course and the money i paid for the course i have got back countless times off peoples jobs, if you are looking for a course choose this one, its impossible to be disappointed. Tile-Wright, Gary Wright.
Testimonial:   Paul (Portsmouth)
Just a quick message to thank Darren at UK Tiling training for his help on my 9 day course. I attended the tiling course knowing nothing and came out with a wealth of knowledge, The first words Darren says are who has done tiling before, there was 8 on the class and only 3 people said yes, then he said well just forget what you know and listen hard. Darren is a total expert, who not only has the technical ability to pass on, but he also has the knack to be able to transfer information into your head and make it stick there, i dont know how but it just does, dont listen to people saying you need long courses as i believe nothing can touch this one.
I have waited some time to post this message as i have just left my job of 23 years (operations manager for a 12 million pound engineering business).  I have just hooked up with a bathroom installer and the money is coming in, no more 9-5 stress, all i have to think about is the next crack Im going to grout, If you want tiling training then get yourself in touch with Tracey, she is loverly and not pushy at all, just really genuine and down to earth helpful, make sure you do the natural stone day as this is a real eye opener as to how to tile in the real world. Paul Thompson. (Portsmouth)
---
Testimonial:   Mark (Isle of Man)
I am happy to leave some feedback on UK Tiling Training, i attended a 3 week
course and have to say it was a very positive experience, Darren and Tracey are both really nice genuine folk who have every person on the course at heart. You begin with business knowledge and how to advertise and get work, this is Darrens real gift as it gives you an insight into the world of his business mind and how to get the edge and succeed in a competitive environment, you cant really go wrong with his 30 years of experience.  Tools and setting out theory are covered as is the tiling, cutting fixing and all the other usual aspects associated with the general work of a wall and floor tiler.  Practical experience is done after fully described demonstrations which run constantly throughout the course. Darren gets you doing creative work very quickly and teaches you how these add ons to a customer can raise your earnings.  Pricing is also covered as well as the measuring, surface preparation, adhesives, grouts, the list could go on.  Darren offers support after leaving the course which i have called on a few times and true to his word my emails were answered within 20 minutes even after 9 pm, cant get better than that, this is also a big confidence boost to you knowing that you have the ongoing help if needed. I feel as if i could rabbit on about the course all day as i feel that Darren has given me the tools to be self employed and my own boss and for that i am forever grateful, a top guy, Tracey a top gal and a top course, highly recommended.  Mark Cummings. (Isle of Man)
---
Testimonial:   Jack (Glasgow)
Thank you to Darren and Tracey at UK Tiling Training, it was a fantastic course, first class from the minute i walked through the door, unbelievable how much i learned on my course which will stick with me for a lifetime, i looked up many tiling courses before i came to this one but uk pro tiling training always stood out to me, i would recommend this course 100% to anyone who is thinking of going on a tiling course, Big thank you again , Jack. (Glasgow)
---
Testimonial:   Paul (Bristol)
I travelled 700 miles round trip to attend UK Pro Tiling training which was absolutely first class, Darren you have made me realise how important structure is when teaching, the delivery, knowledge and practical was outstanding, you have designed a course that is very polished. Best of luck Paul. (Bristol)
---
Testimonial:   John (Blyth)
I went to UK Tiling Training a few weeks back and it was excellent.  As i
already have another trade i was a bit skeptical about learning another in 5 days but the course was set out brilliantly and easy to follow. Â I cant believe how much i learned in a short time and wish i had done it sooner. Ive got a few quotes to do and already have a possible link with a kitchen company that would like to use my tiling services, my only advice to anyone would be to book on the course and dont worry about whether its long enough, this course delivers the goods. John( Blyth)
---
Testimonial:   Davey (Birmingham)
Hi , completed the 2 week tiling course earlier this month and had to register my agreement about the very high standard of the material taught here. I came on the course having completed over 10 tiling jobs and already had a fair understanding of what was needed to be a tiler but the techniques that Darren taught me totally revised my way of working, Darren covers a whole spectrum of how to get the most cash out of tiling to brilliant tips and techniques of installation that would have taken years to figure out myself. The 30 years experience that Darren brings to the classroom really does show. This is a top notch course that i would recommend to novice or experienced tilers, Thanks keep up the good work.  Davey. ( Birmingham)
---
Testimonial:   Colin (Belfast, Ireland)
Hi everyone, i was on the UK Tiling Training course in May with my son, it was brill and Darren and Tracey make you feel very welcome.  The course is very intense but very much worth it, you wont learn half as much elsewhere. In less than two weeks after finishing Ive got my tools, van, business cards that i will be sending to Darren to give them the once over, a trade account with the largest tiling company in Ireland, 4 clients and a chance at a contract with the local council, not bad after  a 2 week course. It just goes to show what Darren teaches works, if it can work for me it can work for anyone, many thanks and i wish you both well, definitely worth the flight and travel expenses to attend. Belfast Colin. (Ireland)
---
Testimonial:   Steve (Devon)
Having been a design and marketing consultant, interspersed with a successful property
developer over the last 12 years i have had a lot of short course experience, whether it be courses i have been sent on or done on my own volition, UK Pro Tiling Training has to be one of the best courses i have ever attended.  The structure, knowledge base, information, delivery, guidance and general function of the course is superb.  The delivery is a no nonsense approach which sorts the men out from the boys, everything is covered from, measuring, tiling walls, floors, windows, cutting around problems, setting out, backgrounds, adhesive knowledge etc.  Darren should be proud of what he has achieved here, you need no other information or training to tile professionally, Highly recommended, Steve Dixon. (Devon)
---
Testimonial:   Danny (Germany)
Being a german based soldier i travelled to the UK and eagerly anticipated the reception prior to the training, nothing could have prepared me more for the ease and friendliness of all the UK Tiling training staff.  Darren imparted over 30 years of professional tiling business sense from the start, the course was to taught to the highest standards that i have come across. The tiling skills i have now will pay dividends when i come to tackle the many projects i face in my new house, where i have only mentioned the training another mention should go to Tracey who runs the office bookings, a number of training organisations could take a leaf out of this organisations book, she gives off an image of professionalism and friendliness, from me and all of the other soldiers that have trained here thank you so very much, Danny. (Germany)
---
Testimonial:   Colin (Manchester)
OK, Finished my 2 week course last night, first of all id like to say that the
opinions expressed are purely my own and i am no way judging any other course and i am no expert on the subject. What a busy 2 weeks Ive had, the course offered by UK Pro Tiling Training certainly puts you through your paces mentally and physically, but it really delivers the goods. Everything from preparation work to adhesive selection, measuring jobs, different situations, natural stones, business sense, advertising, you name it, its covered, A lot of people might say its too much to take in but if you listen carefully it goes in.  After leaving the course i managed to secure myself 5 jobs now over the coming month, one is a full bathroom tile out for my parents house, two kitchens, and two floors for my plaster mate.  Im not chucking my regular job in yet as i will do these jobs over the weekends, Get to know plumbers joiners and other tradesmen and you will be surprised how the work starts to come in.  Feedback on this course is top marks, good value for money, not the cheapest but you get what you pay for in life and this course is cheap considering how much knowledge is on offer, anyone looking to change career, this course comes at a small price that could change your life for the better. Regards Colin (Manchester)
---
Testimonial:   Paul (Newcastle)
There is not much i can add to the fantastic reviews made by past learners, all i can say is
the course was very engaging, professionally taught and Tracey and Darren are very nice people with your interests at heart. If you are looking to become a tiler, the tips and techniques shown on this course are amazing and easy to perfect with the way Darren shows you, the confidence you leave with is incredible. Done my first bathroom with ease, referred to my notes that were given on the course and they make total sense (there are a lot of them), nearly every possible situation is covered in them so when you come up against something your not sure of, look through to the relevant chapter and the answer is there, Darren has given me his personal number for added reassurance, what else could you ask for, Thank You, Paul D, money well spent.( Newcastle)
---
Testimonial:  Danny (Edgebaston)
Best course Ive ever been on, Ive been looking for a tiling course for ages and kept putting it off, spoke to Tracey 3 times, kept coming back as she is very helpful and not pushy at all and a pleasure to talk to, eventually booked up and completed the 2 week course with Darren, all i can say is that i wish i had done it sooner, definitely an eye opener and gives you options in life to work as a tiler, all the reviews on here are very accurate of what to expect on the tiling course, cant recommend it enough, first class, Danny D (Edgebaston)
---
Testimonial:   Dave (Staffordshire)
Just completed the 13 day tiling course, this was a career change for me as i was sick of my old printing job, other than a few DIY jobs never new anything about tiling or starting a business before attending the course. The course is a real eye opener, absolutely full of practical and tiling information, the course is run by Darren who owns the business and is very passionate about the way he delivers the course, no messing about here. You also get a pre written hand out set of notes, these notes are very detailed and worth the money for the course alone, Ive yet to count how many pages there are but it is a lot, they contain everything you could ever need to know about how to overcome problems and inform you on just about everything tiling in a very well written straight forward paragraphed way, couple these notes along with the practical tiling on the course and your confidence goes through the roof, as well as the excellent instruction Darren is giving you all his experience and tips of how to be successful in business and make money along the way. If your looking to learn how to tile or thinking of starting a business in tiling then this place is a one stop shop, very pleased indeed. Dave (Staffordshire)
---
Testimonial:  Paul (Stoke on Trent)
Hi, i completed the 9 day tiling course and would just like to leave Darren and  Tracey from
UK Pro Tiling some feedback, I travelled quite a way from Stoke on Trent based upon previously read reviews and talking to Tracey on the phone, Tracey is very nice and genuinely shows an interest in you, the company really has your best interests at heart, she is more than helpful in finding out what you want to do and explaining what they can offer in training.  Darren does the training, the tiling course is very energised and the days just fly over, there is no down time standing about, you are pounded with practical sessions and tiling information from start of the course to the very last minute you leave, the way he teaches and demonstrates its near impossible not to follow which is why everyone on our course did an excellent job, far better that we expected to do, the first week you are following Darrens demonstrations all the way which is 90% practical based, the second week is more of a personal challenge where he will set you the tiling tasks to complete including problems to solve and make you think your way out of situations, he is there on hand if you get stuck but on this week you have to get your thinking cap on, which is what you will have to do once you leave so he is preparing you to stand on your own two feet. The course is backed up with a big written handout which covers just about everything you need to know, on top of that you get his mobile No just in case you need any help after the course.  I thoroughly enjoyed every minute i was there and i am so pleased i travelled and spent my money here, i have read reviews on other places where people have not been happy and wasted their money, i can tell you all the positive reviews on this place are what you will get. Highly recommended, Paul
---
Testimonial: Dave (Scotland)
What a course Ive just finished, very informative and motivational on how to do all the jobs a tiler would need to do along with putting it all together in running a business. Darren has run this course for a long time and the words just flow from his lips, the course is very polished and streamlined to give you all the knowledge you need very quickly, there is a massive hand out that Darren gives you which reassures you as it covers nearly every situation or question you could possibly ask. I done the 13 day course an enjoyed every single minute of it, I travelled from Glasgow in Scotland so had the expense of staying in b and bs as well as the course costs but it was all money well spent. There maybe cheaper courses around but the info, advice and practical skills you receive on this course is definitely worth it, Dave
---
Testimonial; Stephen from Sheffield
To Darren and Tracey at UK Pro Tiling Training, thank you very much again for the professionalism towards myself whilst attending my tiling course last week.
I am doing my own kitchen splash back today and putting the skills I learned on the course into practice, I have been using the marketing skills taught on the course to good use and have now secured 3 kitchens and 3 bathrooms from someone who does property developments, I have also landed an entire floor to tile on a new build project next month, not bad after leaving only a week ago. I would never have had the ability, know how or confidence had I not attended this course.
Course was definitely worth the money and would recommend it to anyone looking to get into tiling, the course is fast paced and Darren teaches straight to the point and covers everything you need to know about tiling for a living. Regards Stephen
Testimonial: Shane (Cumbria)
While were on the thanking procedure for our careers I would like to thank Darren at UK Pro Tiling Training for the opportunity and knowledge that man gave me. I attended the two week tiling course with very little knowledge of tiling industry and stuck in a job i hated.
All of his tiling trade secrets and business knowledge were passed onto the class which were outstanding,  without a doubt the cleverest business wise man I have met and without his knowledge I wouldnt be where I am today.
After leaving the tiling course I started off as A Star Tiling and traded for a while gaining confidence of what was taught on every job, later I added a joinery side to the business and then a plumbing division, I now have 4 vans, two joiners, two tilers, myself and a plumber now so I decided to change my name and go for the bigger picture.
3 Years on I am now the director of A Star Contracting Limited who renovates shops bars and hotels, sub contract a lot of the work force in but it works for me. We have successfully renovated two hotels in the Lake District and one 5* B&b belsfield hotel in Windermere. The dome boutique, Macdonalds and hotel spas. I have just won a contract for the queens hotel in Keswick and BMW garage in Carlisle and I owe it all to him, without his tiling and business knowledge given on the course I would never of known where to start let alone seen the bigger picture and still be stuck in a dead end job.
I hope he reads this and realises how useful everything that he told me really was and couldnt thank him enough for it, I am very happy and my family is well provided for, thanks again Darren. Shane