Patterned floor tiles, particularly those with geometric shapes, started to become really popular in the middle of the 19th century. Public buildings and illustrious villas, along with churches, were originally the places to find this touch of Victorian grandeur. They soon became fashionable and, as manufacturing costs fell, elaborately decoratively tiled floors began to filter through the classes and were soon being used in the hallways of even the most basic terraced houses. As fashions changed over the decades, these tiled floors were often covered over with carpet, or worse, taken up completely.
Inevitably, these tiles time came around again and not only are classic floors being lovingly restored, but manufacturers are happily supplying those looking to refurbish their homes with retro styled tiles.
Patchwork tile influences.
Whilst the use of decorated and geometric patterned tiles goes back to Victorian times, the influences go back further still. Designs based around gothic themes, replicating religious structures and art, often heavily embossed, were being used back in medieval times. In fact, historians point to the bright coloured, mesmerizing flooring patterns, particularly in more affluent buildings, to allay the myth that the medieval period was all about mysterious darkness. Patchwork patterns of tiles, forming elaborate larger pictures have been found on the floors of chateaus, churches and many other ancient buildings around the world. It is a testament to the interior design skills of those architects that, hundreds of years later, their designs are being replicated on modern tiles.
Many patterned and geometric tile patterns have also evolved from the intricate walls and floors of historic buildings across the Middle East. Throughout the ages, Islamic art has featured elaborate and detailed patterns, often in the form of pathwork or through the use of mosaics.
Contemporary Patchwork Tiling
Many manufacturers are becoming more adventurous with tile design. Seizing on the trends we're talking about here, they are taking the influences of older style patterned and patchwork tiles and adding some modern twists. Many customers enjoy the feeling of being trend setters and using tile designs which are both bang up to date as well as classic. With this in mind, you will find plenty of tiles on offer which have been designed by names from the fashion houses of traditionally classy countries such as Italy. Modern manufacturing techniques offer variations in texture, finish and glazing. An apparently random selection of colourful patterns may actually be the result of some extravagant interior designing, rather than actually being random.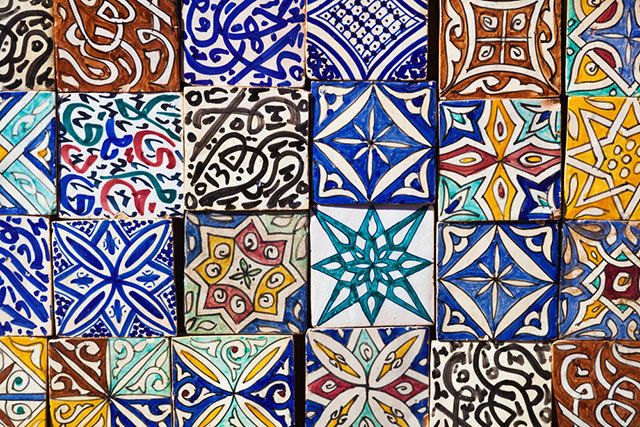 If your customer is looking for something a little bit different when choosing their tiles, encourage them to have a think about maybe mixing the ideas together for a unique effect.
We're here with all your tiling courses and resources, ready for you to take the next step with your tiling career. Why not keep up to date with our Facebook Page and follow our blog.
Get in touch today to find out which tiling courses might be perfect for you.