Adhesive is an integral part of laying and applying your tiles, securing them for years to come. Your choice of adhesive will depend on the area the tile will be applied too. And depending on where the tiles will be applied, will also depend on the adhesive required such as water-resistant adhesive which is a must for those areas where water will be present such as bathrooms, showers, cloakroom and kitchen sink areas.  Another consideration when selecting your adhesive is to choose one with 'non slip' properties as you don't want your tiles to be slipping down at any point.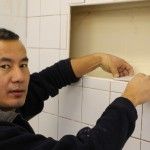 So what about floor tile adhesive – is it for internal flooring or external flooring? Is there underfloor heating to consider? And for application to walls is there plasterboard or painted wall? Maybe wood or tile backerboards or adhesive for a tiled worktop. Once the area to be tiled has been established, choices of adhesives range from powder form to ready mix. 
For floor tiles it is often a more practical solution to choose an adhesive in powder form as they tend to be harder setting so that they can take the weight that will eventually apply to the tiled floor.
So what is the difference between using ready mix and powder adhesive? Well, ready mix adhesive dries more slowly and is not suitable fixing floor tiles or porcelain tiles because of the way it dries. Ready mix dries via evaporation whereas powder tile adhesives dry chemically.
Powder adhesives are available in many grades and are usually the choice of the professional tiler. Once mixed they dry by a chemical reaction. So for example when tiling floors internally or externally choose an adhesive that is flexible where movement is likely. When choosing an adhesive for your tiling project, whether a powder or a ready mix, it is important to be aware of the different classifications of the adhesive. For example:-  F indicates it is a fast setting adhesive,  T indicates reduced slip used for applying larger or heavier tiles and E for adhesives that won't set too quickly – again great for larger projects. 
Ready mix adhesives are great for doing smaller jobs quickly (such as a kitchen splashback) and areas that are unlikely to have too much exposure to moisture. 
Mixing the tile adhesive correctly is important and requires certain tools including a bucket, mixing paddle, and some PPE (personal protection equipment) in the form of goggles, face mask and gloves. Useful tips on how to mix adhesive is a handy guide to help get the most out of the adhesive – reducing waste and maximising time.
Once the tiles have been applied, the finishing touch is to apply the grout. There are many choices of grout available including cement, sanded and unsanded (smooth or coarse), latex grout and epoxy (no cement) grout. It is better to select a grout that is anti mould. Cement grout is a low cost option and can be used for interior and exterior projects but it is porous and requires regular sealing. A grout which contains latex will increase water resistance. Epoxy is considered a superior choice as it is durable, stain and chemical resistant and can be applied internally and externally on ceramic and porcelain tiles. So when applying the grout to a tile project, considering the type of tile and the width of the tiling joint will determine the type of grout to use.