It's a great feeling when you finally finish laying those tiles and can admire your work. Tiling takes a long time, but it's worth it because they're sustainable and easy to clean. The key to maintaining your tiles is cleaning them regularly, but a small amount of soap and water won't do the job.
In this post, we'll reveal some of the best cleaning products for tile floors. From specialist brands to all in one cleaner, there's something for every purpose.
LPT Porcelain Floor Tile Cleaner
One of the most effective tile cleaners available, LPT will remove dirt and grime without leaving a nasty smell. With a fresh-smelling fragrance, you can apply the cleaner and won't have to worry about rinsing afterwards.
Better still, this product will last a long time – so it's excellent value for money. The only drawback with LPT is that while it performs well, it's not a heavy-duty tile cleaner.
If you live with children and pets, it will shine on your floor but might not be able to remove stubborn stains.
Ecoprotec Natural Stone & Porcelain Cleaner
If you're looking for an environmentally friendly tile cleaner that does the job, then look no further. Ecoprotec is specially designed for natural stone and porcelain, which means it's a gentle cleanser – but still very effective.
You can use it indoors and outdoors, and the lemon fragrance means you won't be left with an undesirable chemical aroma. Overall, there's nothing to fault with this product. It cleans porcelain and natural stone – all at a low price.
HG Shine Tile Restoring Cleaner
HG Shine is a one-size-fits-all solution because it works on a range of tile types and is known for its restorative value. The no-frill brand is designed for quick cleaning, and one litre will last you for at least 20 washes.
If preserving the planet is essential to you, then HG Shine is a fantastic choice. The company is climate pledge friendly, and you can use the cleaner to add a lovely shine to your tiles.
FILA Surface Clear Solutions
While many household tile cleaners will do the job, professionals often choose one with more capabilities. If you've just finished – or are thinking about doing a tiling course, then the clean up is a central part of the role.
People should have a great experience when they see their new tiles, and using FILA will achieve that result. While the cleaner is light, it easily cuts through any dirt or tough stains, and you can make it last for up to 40 washes.
Tile Doctor Neutral Cleaner
Tile Doctor is ideal for any tile type, but it seems to work particularly well on ceramic tiles. The PH neutral formula is excellent for removing dirt and grease from your floor, and it's a gentle cleanser so that it won't cause any damage.
If you're not a fan of citrusy smells, then you'll love Tile Doctor even more. Each time you use it, you'll be greeted with a fresh mint scent, which immediately refreshes the entire room.
Dr Beckman
Dr Beckman is specially formulated to remove dirt from ceramic, porcelain and stone tiles. The strong cleaner is ideal for tough stains, and it offers a layer of protection between your tile and any contact.
Households with pets and children should use the cleaner because it comes in at a low price but has an excellent track record of removing dirt.
The Pink Stuff
It's incredible that something so cheap could be as powerful as The Pink Stuff – but people swear by the all in one cleaner. Not only is it cost-effective, but you can also rest assured that it's completely harmless for children and pets.
Perhaps the best thing about The Pink Stuff is its ability to clean tough stains without leaving a residue. While the cleaner isn't specifically invented for tiles, it does a better job than other expensive tile cleaners around.
Mr Muscle
We can't leave out Mr Muscle, because it's one of the UK's most popular cleaning brands. The companies power cleaner is ideal for tiles because it gets rid of tough stains and grime on porcelain and ceramic surfaces.
When compared to other tile cleaners, you might need to use more elbow grease with Mr Muscle, but if you'd prefer a familiar brand that you know you can trust, then you can't go wrong with the power cleaner.
Groutrageous Step 1 Tile Cleaner
While many tile cleaners can be used on grouting, they don't have a substantial effect for tough to clean areas. We always advise that you start with a professional grout cleaner to get the best results.
You can use this cleaner as a base because it powers through tough stains and dirt. With its concentrated acidic formula, you can rest assured that Groutageous will do the job well.
Afterwards, it's best to follow up with another tile cleaner to make the floor shine.
Tile Cleaning Machines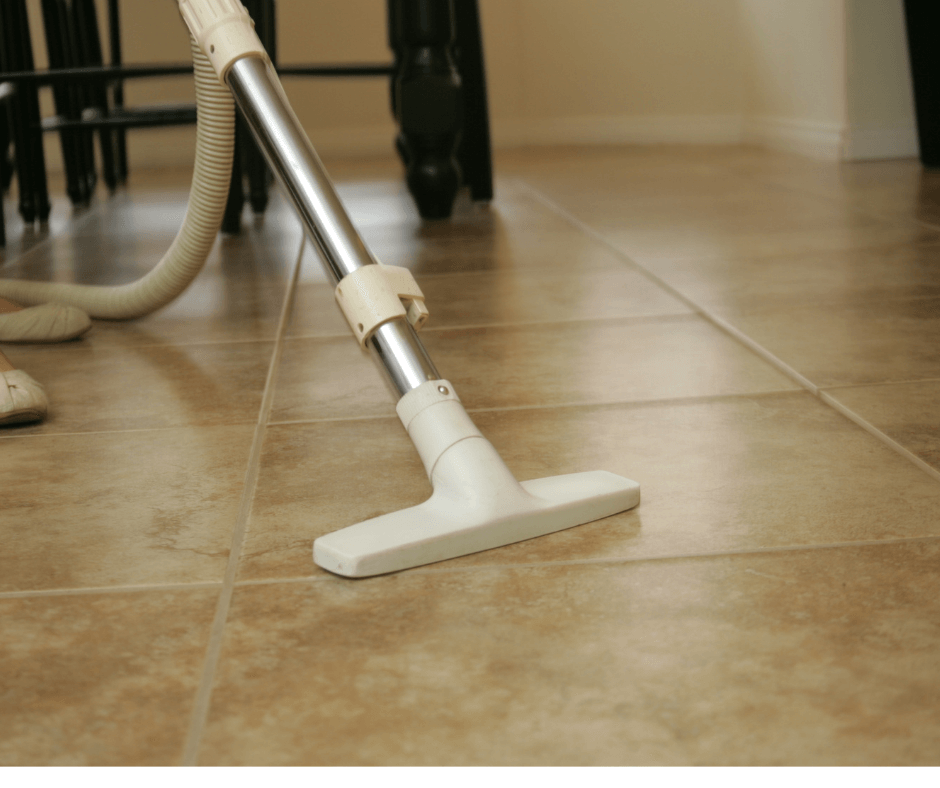 Tile cleaning machines are easy to use and make the process of removing stains a lot easier. If you suffer from mobility issues or don't want to struggle on your hands and knees, these machines are great for polishing your tiles and giving them a shiny look.
Instead of choosing a rotary cleaner, you should use an electric mop. Most come with steam cleaning functions and can cut through stains easier than traditional mops.
Here are some of the functions you should look out for:
Lightweight design, so the mop is simple to move around
Different steam settings
Cleaning pads with grips to pick up dirt and stains
If you don't want to use an electric mop, then microfibre pads can be ideal. They're great for cleaning and shining surfaces, but you'll probably need to use a specialist cleaner to remove stains first.
If you're interested in learning the art of tiling and would like to build a successful career, then you might want to consider investing in floor tiling training courses. With a range of one day and intensive courses, anyone can learn how to make money in a trade that offers them a promising professional future.