Update after UK Pro Tiling Training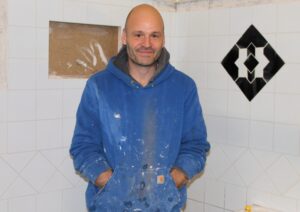 Thought I'd post an update on how things have been going since completing Darren's course at UK Pro Tiling Training 4 months ago to maybe help anyone who's thinking of changing career.
I've been a builder for the last 15 years and have done plenty of tiling jobs during this time but could never really call myself a tiler hence the reason for going on the course in the first place and finally learning how to do it properly.
The course was fantastic with everything needed to know about tiling taught in a very straight forward fast track way.
Once all the tiling skills had been taught, the first things we were advised to do was to get a website built as most tradesman don't have one. Having a good marketing plan is crucial for getting the customers in as fast as possible and a website is a big part of this. So, the day after the course finished I found someone on recommendation and I now have my very own website Hampsteadtiling.co.uk, anyone looking for tiling work in the North London area, please feel free to check it out and contact me for an estimate. Below is a picture of my latest tiling work.
The next thing was to start getting some business in. I basically just walked into all of the well-known tiling shops in my area and simply asked if their customers ever needed a tiler. Not one manager said no and neither did they refuse to take my Business cards and set up a trade account for me.
Long story short, within 6 weeks of walking into that first shop I had a constant stream of work, which has never stopped and is constantly growing. It does also helps to "take care" of the managers that pass on the work!
Another thing I found is that it really doesn't take long for other tradesmen to notice your work if done well. As I mentioned earlier, I had done a lot of tiling prior to the course but never got anywhere near the type of praise coming from the other trades as I do now.
Those same guys are now recommending me to their own customers and good quality work/customers have subsequently followed.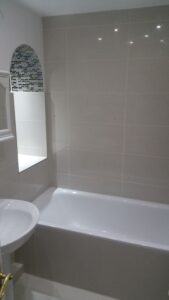 The long and short of everything that has happened so far after completing Darren's course is that I now "feel" like and can talk like a Tiler as opposed to just acting like one which comes across to everyone I speak with.
So for anyone who's thinking about doing the UK Pro Tiling Training course for whatever reason, whether it's a career change or just learning how to tile the right way, I highly recommend Darren and his team to get you where you want to go in the absolute shortest possible time absolutely everything is covered on the course from how to tile to how to run a business.
Thanks
GaborӬ; Hampstead Tiling (North London)
Contact
Anyone interested in learning to tile or a career change, please visit UK Pro Tiling Training