Buy Professional UK Tiling Tools from Our Tool Shop
If you're thinking about a new career in tiling, then you may be looking to invest in some professional tools after of even before your tiling courses.
UK Pro Tiling Training offers a range of pro quality tiling tools for sale, everything you could need to get your professional career underway.
The items we stock are the same tools as you'll be completing your course with, so you'll be familiar with the quality and feel of them.
Professional Tiling Tools
Rest assured, you'll find the right tools for the job, every time. We have a huge assortment of professional tiling tools available for you to order, from heavyweight electric cutters down to everyday essentials such as sponges, buckets, spacers and kneepads.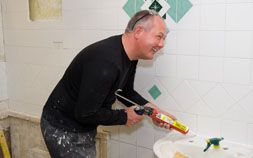 At UK Pro Tiling, we appreciate the importance of attaining a first-class finish when you're working in a professional capacity. We'll help you achieve outstanding results by supplying you with the right equipment. Customer satisfaction is at the core of what we do, and we only stock the most trustworthy brands in the business, such as RUBI, SIGMA and more.
The Most Important Tiling Tools UK
Tilers need to ensure they have the correct equipment to complete the tasks at hand effortlessly and efficiently.
Here are some of the key pro tiling tools you should include in your toolbox:
Manual tile cutters. A good manual tile cutter is a prerequisite in the tiling business. Lightweight, easy to use and versatile, these tools make even the most demanding job an absolute breeze.
Mixers. A mortar mixer is ideally suited for mixing resins, cement, adhesives, pains and other materials.
Buckets. Robust and versatile,buckets are a must-have tiling tool for mixing and transporting mortar. Rubber buckets are especially good, as they're easier to clean than hard, plastic ones.
Tile trowels. If you want a polished, professional finish, a tile trowel is incredibly important, so you get proper coverage every time.
Grout floats. Grout fills the spaces between the tiles, securing them together. Grout floats are made of a durable, yet flexible rubber pad connected to a C-shape handle.
Tile levelling systems. These pro tiling tools help prevent tile lippage, guaranteeing fast levelling.
Tile spacers. These essential items enhance the installation process considerably, ensuring tiles are set at the perfect distance from each other.
Kneepads. These tools protect knees from all the squatting and lifting you do in your job, making work more comfortable and safe.
What Pro Tiling Tools Do We Sell?
We deal with all the leading professional brands, such as RUBI, SIGMA, TILE RITE, to name just a few, and we can offer our tools at discounted prices. All our tools are in stock and can be bought and taken away after your course.
We offer two full packages of tools, which includes everything you need to get started in a career as a tiler, such as:
Quality flat bed dry tile cutters
Electric tile cutters
Various trowels for applying adhesive
Bucket trowels
Electric mixers
Tile nippers
Grout floats
Levels
Spacers
Kneepads
Buckets and sponges
Set square
Pencils
Safety Glasses
Grout whisks
Silicone gun
Dust sheets etc
How Much Should You Pay for Tools?
Tools come in an array of prices, from cheap and nasty which fall apart, to very expensive. When you're starting out, it's tempting to buy the cheapest tools, but this can be false economy as they can break and let you down when you need them.
Top of the range professional tools can serve you well for many years, but may be too expensive from retail outlets which is why we offer these top-quality professional tools to you at trade prices on the course.
Expenses
Don't forget, if you're running a wall and floor tiling business then the tools that you'll need to buy can be tax deductible. All you need to do is make sure you keep your receipts of purchase and present them to your accountant.
Safety Clothing
You can find an array of safety clothing, PPE and Safety Footwear by following the links.