Tiling with quartz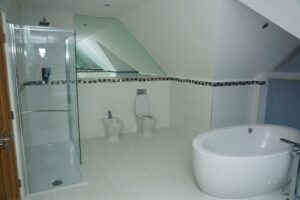 Quartz tiles can look beautiful especially with the mirror glitter pieces in which can catch the light and give a twinkle across the whole floor, it is a very impressive tile indeed and comes in a multitude of colours, however dealing and installing this tile can be troublesome.
How they are made
Quartz tiles are unlike a normal natural stone tile such as marble, which will be pure 100% marble, a quartz tile is usually about 93% quartz and the other 7% will be a resin to bind the tile together.
Adhesive when fixing quartz
Quartz has a very low porosity, which means the tile does not absorb very well, due to the curing process of cement adhesives, this causes a problem for a standard adhesive to work and stick to quartz. Water is not to be used in the mix when using a cement adhesive therefore a two part adhesive is required to make the adhesive flexible, this will add extra grip to bond to the tile. A two-part adhesive will consist of a 20kg bag of standard cement and a 5 lt bottle of liquid latex.
Under Floor Heating
When using quartz tile it is not recommended to use this tile with underfloor heating, this is down to the resin content in the tile, the heat from the floor can cause the tile to warp and cause lippage between tiles.
Preparation
Prime the floor with a diluted acrylic primer and leave to dry until the prime has gone tacky.
Use a 10mm – 12mm notched trowel and serrate the floor area, apply the quartz tile making sure that the tile comes into contact with each of the ribs of adhesive.
Sealing the tile, even though quartz has low porosity, it is still advisable to use a suitable stone sealer in case the grout stains or dulls down the surface of the tile.
Use a 2-3mm grout joint and use a flexible grout.
Hard Wearing
Quartz is an extremely hard surface and will last and look good for many years.
Tiling Training Courses
Thinking of doing your own tiling projects then UK Pro Tiling Training runs fast track professional tiling courses and a dedicated natural stone installation course, please check out our website www.tiling-courses.co.uk to find out more