Tiling Over A Bath
Tiling over a bath
When undertaking tiling work in a bathroom it is at some point where you will be tiling over the bath or shower tray.
This can lead to problems if not done correctly as water can leak where the tile meets the bath if the job is not done correctly and siliconed well even more so if the bath has a shower above it.
Fill the Bath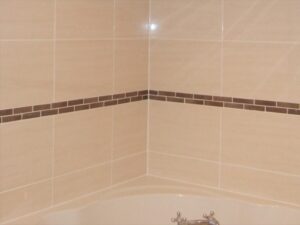 The first thing you should do is fill the bath with water, about a quarter of a tonne of water is produced when the bath is filled, this causes the bath to sink about 2 mm, if your tiles have been placed directly on top of the bath and then siliconed, the 2mm drop will cause the silicone to split resulting in water being able to get down behind the bath causing damage to the walls and floorboards.
Method
Filling the bath and leave a 2mm joint between the bath and tile then using your silicone gun, apply the silicone to this joint filling the void and leave the bath water in for a minimum of 12 hours to let the silicone cure, once this is done let the water out of the bath and you will have a much better seal than the last method.
Shower Trays
A shower tray cannot be filled with water so just leave the 2mm gap and silicone, this way the silicone will fill the void between the tile and tray, therefore, making the seal.
Finish the silicone off with a profile tool to create a neat finish.
UK Pro Tiling Training, fast track professional tiling courses, change your career with our help.
Visit www.tiling-courses.co.uk for more info.