Learn to Tile on Plaster Board
Tiling direct on a plaster board isn't that dissimilar from tiling over plaster skim, cement or other wall materials. You can apply tiles direct to plasterboard effortlessly and easily — it just takes a little preparation to finish the task correctly.
So long as your wall is flat and smooth, you can fit tiling straight ontoplasterboard with no problem at all.
We've pulled together a step-by-step guide, so you can complete the project professionally. Be sure to check out our other 'how to guides', including how to grout, how to measure up a tiling job, how to repair cracked tiling and much more.
Step 1 —Head to Your Local DIY Shop
First up, you need toget some DIY essentials from your local home improvement centre. You'll need:
Plaster board
Screws
Stanley Knife
Level
Acrylic Primer
Board Adhesive
Tiles to complete the job
General Tiling Tools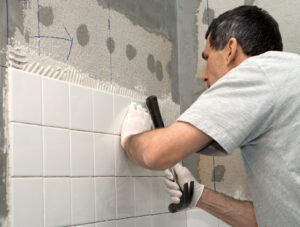 Many of the above tiling tools needed can be purchased from our online tool shop at competitive prices.
Plaster board alone has a greater weight ratio than a board with plaster skim applied, with the skim applied the plaster sticking to the board is 20KG per metre squared, the direct board has 32KG per square metre weight ratio thus can take a heavier tile than a skimmed wall.
Plaster board can be screwed to joist or stud work to make a wall or an existing damaged or bare brick wall can de dot and dabbed with the plaster board, this method involves applying lumps of board adhesive on the back of the plaster board and sticking it straight to the brick wall.
Step 2 — Apply the Primer
Apply an acrylic based primer to the plaster board with a brush or roller and leave to dry before applying adhesives.
Step 3 – Apply Tile Adhesive on the Plasterboard
The next stepto the process involves applying the tile adhesive to the plaster board with a notched trowel. In small sections, spread the adhesive evenly rather than spreading oververy large areas, as the adhesive may dry before you lay your tiles. Generally,you'll have about 20 minutes of work time for each piece of wall applied with fresh adhesive.
As soon as you've spread the adhesive, slide the tiles into position. You can use tile spacers as you go to ensure each tile stays separate from the others — use 2mm or above on the walls.
You'll need to use a tile cutter to make any necessary cuts to complete the edge of a row. It's important to measure carefully so you know where the tile should be cut and use the machine according to its instructions. Please note: Avoid wearing loose clothing when using this tool and keep fingers away from the cutting surface.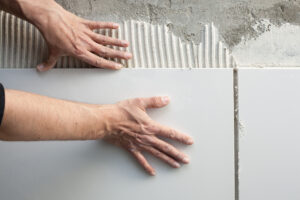 Step 6 – Grout and Clean
The last step to tiling on a plaster boardis to leave the adhesive to dry, as per the packaging instructions. This will then enable you to fill in the gaps between the tiles with grout to seal and complete this task.
Make sure you have a grout float and grout that's either ready-mix or a cement grout you prepare for the tiling. Mix the grout according to any directions and begin working it between the tiling using the float. Be sure to smear a liberal amount to fill the gaps. Finally, clean up any excess with a wet sponge and use it once more after the grout dries to spruce up the tiles.
So, you see? Tiling direct on plaster board isn't nearly as difficult as you first thought. If you want to learn more about how to tile on all walls and floors or more about the tiling trade, we offer numerous competitively-priced tiling courses to suit your training needs, including our one-day natural stone tiling and business start-up course, five-day fast track course, nine-day advanced ready for work course.