"You can't teach an old dog new tricks" the saying goes. Well we don't think there's any truth in that. In fact, people with experience from other professions and areas of life may well find that some of their skills are transferable and they are well prepared to learning tiling.
Maybe, with the extended free home time you might now be having, you have discovered a love for DIY as you tackle those jobs at home which have been put off for months. You might have tackled your own bathroom tiling, or laid a new tiled floor in the conservatory. If you find yourself thinking that it might be nice to try and tile for a living then you've come to the right place.
From quick courses to give the eager DIYer the basics through to advanced and specialist courses, we have something for everyone.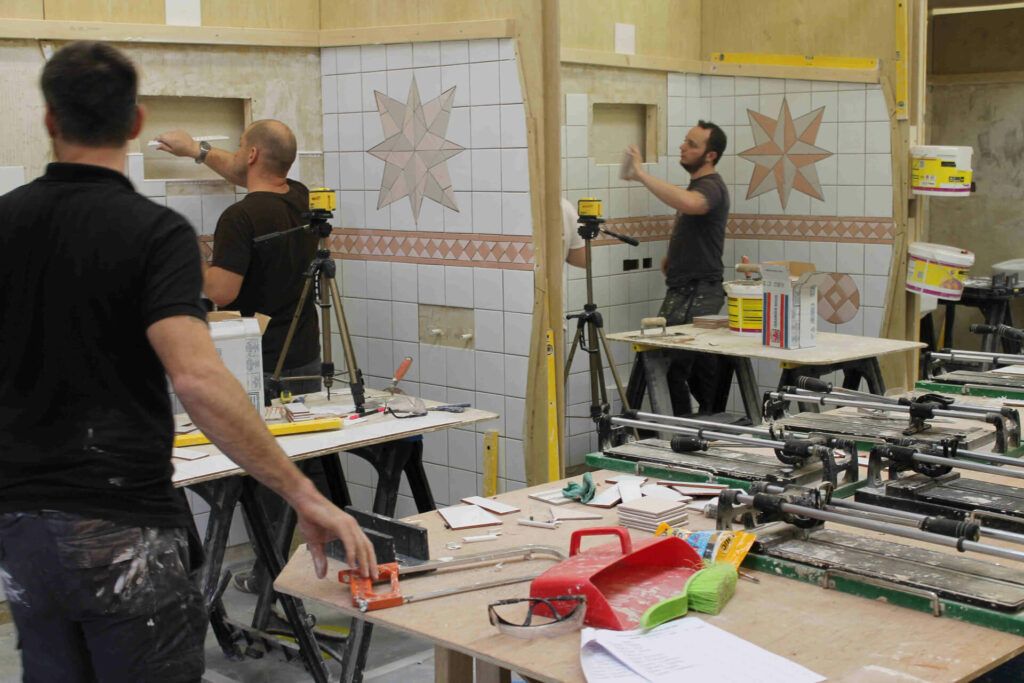 Working on construction sites
If you do decide that tiling is the career for you, then you'll need to decide whether or not you are going to think 'big' and head for large construction projects. If you do, then you'll need various pieces of evidence of competency and health and safety awareness. You'll need to pass a CITB (Construction Industry Training Board) site safety course alongside a relevant qualification, to even get access to a commercial site.
We offer a fabulous, comprehensive course which will leave you with the required skills ready to be assessed for your NVQ (National Vocational Qualification). The NVQ would be your recognised qualification required. It would be helpful if you could get to work alongside an accomplished tiler, both as an 'on-the-job' way of furthering your skills, but also in order to be assessed for your NVQ.
As a side note, if you are an experienced tiler but don't have the NVQ or you can use the EWPA route (Experienced Workers Practical Assessment) to get the necessary qualification.
Working in private homes
If you decide to work on smaller, private projects, it still might be worth teaming up with another tiler if you possibly can. Maybe offer to do free or 'mates rates' work for friends and family. This will help you build a portfolio of completed work to help with getting new clients.
If you are moving from employment into self-employment then there are so many other skills you'll need to learn. Our courses are designed to prepare you for this daunting transfer. You'll learn bookkeeping, tax and NI, marketing skills, how to use trade suppliers, tips for motivation and even advice on choosing a name for your new business venture.
These are difficult times for all, but it could be the opportunity to change direction and learn new skills, whatever age you are, or what type of work you currently do.
We've been offering career changing courses for over 15 years and our owner has over 30 years of experience to share with you.
Get in touch today and plan the start of the next stage of your life.