Testimonial Neil Conroy
UK Pro Tiling Training
Testimonial; Neil Conroy
Hi Darren and Tracey,
Thank You
Firstly I just wanted to say a massive thank you not only for the quality of the tiling course I attended but the support I've received since completion of the course and secondly to give you an update on myself and the my business "¨Diamond Tiling Services North East.
Since leaving the course in February I went back to my job in the Middle East and instantly got to work on my marketing strategy.
I returned home on the 1st of April and instantly had 6 weeks worth of work booked in.
The nerves soon kicked in and I started questioning my self.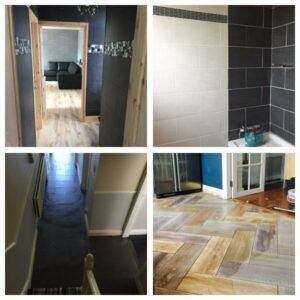 – Am I capable of doing this without instruction?
– How much did I actually learn on the 9 day and did I actually take it all in?
Well after my first job the nerves went and I soon realized Darren had given me all the skills I needed to complete even the most complex jobs.
I am now booked up for the next 12 weeks and have great reviews from customers who are really pleased with the quality of my work.
Once again thanks to you both.
Above are some of the tiling jobs I've completed recently.
Best Regards
Neil
Tiling Courses;
Anyone thinking of a change of career like Neil then visit UK Pro Tiling Training to find out more