Don't be fooled into thinking that your bathroom tile patterns should be simple and plain (bland and boring…). There are huge variations of tiling options that can add a great zest of life to your bathroom.
Whether you are looking for tile ideas for small bathrooms or larger washrooms, take a look at the 20 Bathroom tile patterns below and open your mind to what tiles and tiling patterns may look good in your home.
Natural stone tiles
Natural stone tiles are incredibly popular in contemporary homes for their neutral appearance and durable qualities.
Natural stone tiles can be bought in various sizes and can be used for walk-in showers too, something we teach in our natural stone tiling course.
Rainbow coloured tiling pattern
If you want to add a little colour to your bathroom, why not opt for a multi-coloured tiling pattern?
Multi coloured tiles can be a good choice of colour for smaller bathrooms, and work particularly well to brighten up your additional toilet or shower room.
Checkerboard tiling pattern
The checkerboard tiling pattern has been around for a number of years, however, has most recently been seen to be making a comeback!
Best installed by a professional tiler, the checkerboard tiling pattern offers a sleek and sophisticated finish.
Laminate flooring
Laminate flooring is a safe bet for those on a budget as it is generally considered to be a cheaper bathroom floor option than tile.
While here at UK Pro Tiling Training we would always opt for tiles for their quality and long-lasting durability, we can understand the attraction to the lower initial cost that laminate provides.
Marble tiles
Marble tiles most definitely have a luxurious edge that makes this type of tile stand out from the crowd.
Marble tiles work well in large bathrooms and kitchens.
3-layer tiling pattern
The 3-layer tiling pattern should be installed by a tiling professional and essentially features detailed ornamentation around the bath.
Another prestigious tiling pattern, the 3-layer tiling pattern can add a sense of supremity to your bathroom.
Mosaic tiles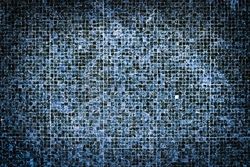 Mosaic tiles are much smaller than standard tiles and can be applied in a straight-forward format, like in the image above, or can be applied in a more detailed, shaped design.
Professional tilers enjoy working with mosaic tiles as these tiles encourage creativity and variation.
Chevron tiling pattern
The Chevron tiling pattern is a tiling pattern with a difference and will provide your bathroom with a retro feel.
The pattern will vary depending on the colours you choose. Bolder colours will result in a more obvious pattern.
Porcelain tiles
Porcelain tiles are a type of ceramic tile and are incredibly popular for use in bathrooms and kitchens. The great thing about Porcelain tiles is the fact that they can be in a large format to fit in any size bathroom. Large porcelain tiles work exceptionally well for use on bathroom flooring.
Straight lay tiling pattern
The straight lay tiling pattern is the simplest tiling pattern of all, but it must be applied neatly to look chic and sophisticated.
The pattern consists of tiles (most often ceramic) applied in a straight horizontal pattern.
     11. Diagonal lay tiling pattern
The diagonal lay tiling pattern is similar to the tiling pattern above but, yes you guessed it, the tiles are applied on a diagonal slant.
      12.The Versailles pattern
The Versailles tiling pattern is a more complicated tiling pattern that looks effective in all areas of the home, including the bathroom, although is not recommended for very small bathrooms.
The Versailles pattern features four different tile sizes and, although, portrays a random look, requires meticulous planning. It is best installed by expert tilers.
   13. The basket weave tiling pattern
An intricate tiling pattern that portrays the weaved look, the basket weave pattern works well in bathrooms of all sizes.
   14. Herringbone tiling pattern
The Herringbone tiling pattern is another classic that can be complicated to apply and should be carried out by a professional tiler.
It is an excellent choice for making rooms look bigger and essentially consists of tiles, applied in V shapes by being placed at a 45-degree angle.
    15. Easy applicator tiles
Some tiling patterns are fused on larger tiles to make for an easier application, perfect for those looking to apply the tiles as a DIY task.
    16.The Brick Pattern
The brick pattern can make for another more retro bathroom wall tile design and is essentially made up of rectangular tiles applied in a brick wall format.
A good tiling pattern for smaller bathrooms or walls with an uneven surface, the slight misalignment of the tiles fools the eye into thinking the wall is bigger.
     17. The hexagon pattern
The hexagon pattern is made up of numerous hexagon shaped tiles applied to the wall or floor. It can be slightly more difficult to apply this shape of tile. Additionally, hexagon shaped tiles can be more difficult to come-by.
     18. Windmill tiling pattern
The windmill tiling pattern tends to be too busy a pattern for a whole wall or entire bathroom floor, however makes an affective border or feature area. It consists of four small rectangular tiles placed around a larger square tile. The windmill pattern is best applied by a professional tiler.
    19. English bond tiling pattern
The English bond tiling pattern consists of a combination of rectangular and square tiles applied in a horizontal format. This pattern makes a nice, yet similar, alternative to the brick tiling pattern.
     20. Vertical brick tiling pattern
The vertical brick tiling pattern is an alternative to the standard brick pattern and can be a popular option for contemporary homes.
White vertical brick offers the ultimate modern look for bathrooms.
More information on bathroom tile patterns from UK Pro Tiling Training
If you would like to expand your knowledge of tiling patterns with one of our professional tiling courses, then please do not hesitate to contact us at UK Pro Tiling Training.