Is It Possible To Become A Tiler In A Short Time?
Is it possible to learn to tile in a short time?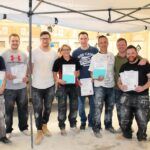 What is Tiling?
Tiling is the fixing of ceramic, porcelain or natural stone tiles to walls and floors, there are many different sizes of tile but the process of fitting them all is very much the same method.
Where are tiles fitted?
 
Tiles are fitted usually in all domestic and commercial buildings from bathrooms, kitchens, cloakrooms, and any floor. Tiled surfaces are great as it produces excellent finishes aesthetically plus also hygienic and easy maintenance. Tiles are often used in swimming pools to add a little water proofing properties but mainly for their look as a beautiful deep blue glazed tile will make the water also look the same colour.
Apprentices in tiling
 
Some young tilers learn the trade at 16 or 17 years old over a 2 or 3 year apprentice and would also attend a college once a week to learn the theory and background preparation involved with tiling, this is a long slow drawn out process.
Fast track intensive courses. 
There are a few fast track professional tiling courses in the UK where tiling can be taught much faster than going to a college and as an apprentice.
UK Pro tiling Training is one of the best training centres in the country and only specialise in quality tiling training, here you can attend a 3 week course and be fast tracked all the information you require, this course is designed for adult minds and not young people where you will receive a 10,000 word hand-out covering all the different situations that you will find yourself in when it comes to laying tiles, the practical part of the course is in your own workstation which is a mock up of bathrooms, kitchens and floors so you can learn how to fix and shape tile to overcome all the usual problems that a professional tiler would come across.
If your looking to become a tiler then visit www.tiling-courses.co.uk to find out more.