So what type of tile to use? Well, firstly, porcelain tiles are used in favor of the ceramic tile as the porcelain tile is a more dense and stronger form of ceramic. Porcelain tiles that have a rating suitable for flooring can be laid outside. And the tiles will have a textured finish in order to avoid any slippery accidents.
Depending on personal choice (and maybe budget), the type of property and the overall look that is to be achieved, then a slate tile could be considered. The slate tile will need to be of a higher quality grade and make a great choice for exteriors as they have a resistance to stains and are non-porous. And where slate has been used in interior and exterior designs it gives a very eye-catching and striking look.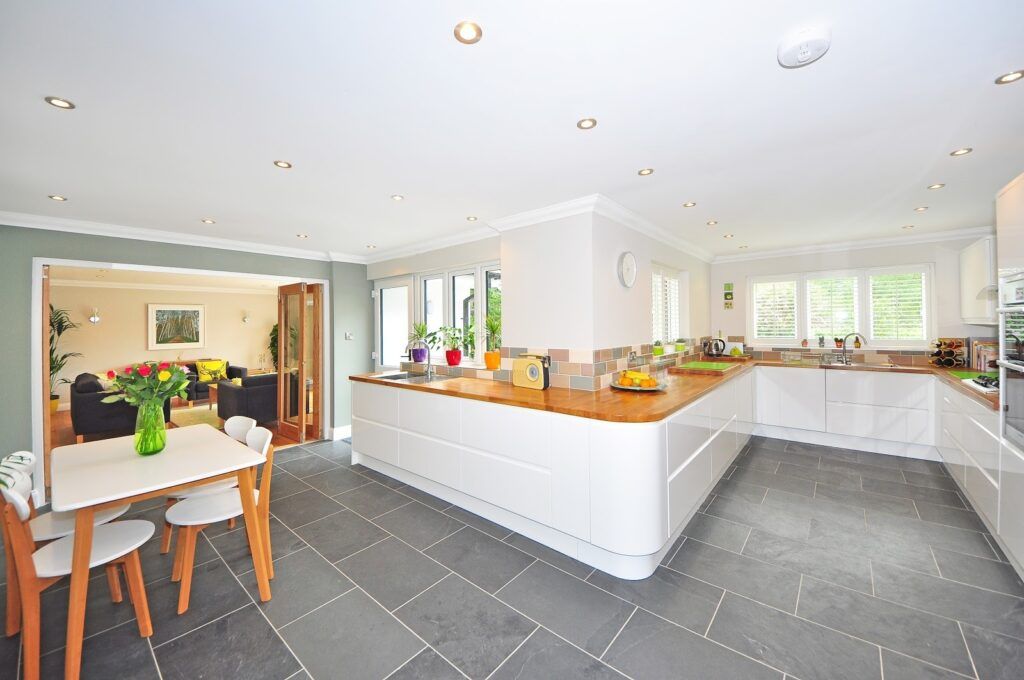 So why choose tiles over the more common (and popular) brick or paved exteriors? Well if you are looking to add a bit of style, individuality and uniqueness to your outside space, tiles will give you a wider choice of style, colour and pattern than the more usual brick and paved look.
There are things to consider when choosing tiles to be outside such as what is most appropriate for the climate and environment that the patio/ exterior space will be exposed to. We know that porcelain tiles are preferable to ceramic as it is a much more hard-wearing tile but isn't the only option to choose from. Consideration for how the outside space is going to be used will be another important factor when choosing your tile.
For a patio/ outside space that will be used with heavy footfall (commercially or domestically) then the stronger the tile type the better; after all there is nothing worse than looking out on to your new outside area and a couple of cracked tiles appear.
Having looked at porcelain and slate, the quarry tile is a popular choice being strong and functional and if choosing the quarry tile, remember there is limited choice of colours to choose from and think about the climate where they are to be laid, as quarry tiles are not the greatest choice for cold and freezing temperatures. They do have a great resistance to water and are hugely popular in warmer climates, after all, haven't we at some time sat on a warm, red quarry tiled terrace? And, being unglazed, the other great advantage of the quarry tile is that they are non-slip.
Maybe if you are looking for a bit of luxury (and may blow the budget a bit) granite tiles could be used, but, because they are normally highly polished then the 'slip factor' is high if the granite tiles get wet and because granite is more porous than some of the other materials it will require some regular maintenance by sealing it against water penetration. But if your choice is to go for a more luxurious and high maintenance look then granite tiles may appeal.
Then we come to travertine, a natural stone, which, depending on where it is quarried, can vary in its quality but is still a strong and durable tile. For a higher quality and more water resistant tile, travertine tiles from Italy or Turkey are a good choice. Travertine is a beautiful tile with earthy, warm tones and texture.
With the various choices of tiles available, it is highly likely that budget, style and colour and how the patio or outside space will be used will have an influence on which tile will be best for your outdoor patio.