With your training complete, it's time to get out into the world and start tiling for customers. This can be an awkward time. Potential customers will be keen to see examples of your work. Yet until you've completed projects, there'll be nothing to show. This isn't a dead end, though. There are a number of ways to put together a portfolio.
Follow these tips to put together a portfolio:
Keep all of your coursework.
Whilst training, you should take good quality photographs of your work. Even a small area which has been expertly tiled is evidence of your work.
Work with an established tiler.
Reach out to fellow tilers. Maybe through contacts made on your course, or by contacting tradespeople in your area. Be honest with your experience too. If you get lucky, you'll get some work which you can then evidence, to show the quality of your work.
It's who you know.
Offer to tile your Nan's bathroom or your mate's conservatory floor. There will be people in your network who would be happy to have their homes revitalised for a reasonable rate (or in return for a roast dinner and a couple of cold beers). Maybe that downstairs cloakroom in your own house could do with a splashback behind the sink.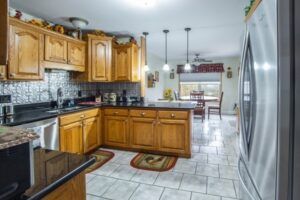 The key? Take photos of your creations once complete.
Hopefully, using the above tips, you can start to gather a body of evidence. Ask for testimonials too. A few words from a happy customer who is willing to be named adds authenticity to your portfolio.
Be sure to take plenty of photographs of all of your work. Use a photograph editor to write a few comments on the pictures explaining the job. If there has been a substantial amount of preparatory work, use some before and after shots too.
Create a stored folder somewhere safe, other than just your 'phone or laptop, just in case you lose the original. Document editors, such as Google Docs, are good for creating your portfolio, easily inserting pictures and text into a document.
But what can you do with this portfolio in order to reach potential customers and employers. The internet can be a frustrating, time consuming (and time wasting) monster sometimes. Now is the time to get the virtual world to work for you:
Facebook – create a Facebook Business Page. Using no more knowledge than most of us need for our personal social media accounts, you can create a professional looking presence one of the biggest platforms of all. Even if it doesn't attract much attention, you can use it to show potential clients.
Instagram is another platform to get on. It is the social media platform that allows us to take photos on our smartphones and post them immediately online for the world to see. It has an easy to use business option too.
The internet offers other opportunities to advertise your skills and showcase your portfolio:
Checkatrade, Rated People, TrustaTrader and many others are like old style Yellow Pages. You can register and customers reach you when searching for a tiler.
And keep that Google Docs file handy to share with anybody you might who might just know someone who needs a tiler.
Don't forget, aside from all of our courses here at UK Pro Tiling we offer after care for all of our students and plenty of guidance on setting up a tiling business.