Fireplaces were traditionally decorated ornately with tiles. As interior design fashions and fads have changed over the years, often these fireplaces were buried behind smooth plastered walls.
Interestingly, particularly as wood and other fuel burners are becoming more popular, fireplaces with tiles are seeing the light again. From traditional Georgian designs to more modern decorative patterns, fireplace tiles are, once again, becoming popular.
As well as adding aesthetic value, tiles can form a fireproof barrier between the fire and the rest of the house.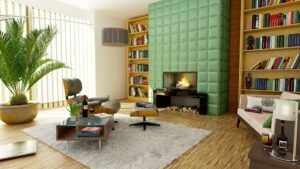 So if a customer is looking for new tiles to be installed around their fireplace, how can you best advise them?
Here are some tile around fireplace ideas from UK Pro Tiling Training on how to choose the best fireplace tiles:
Consider using a fireplace tile set
Fireplace tile sets feature ornately painted feature tiles, as well as a band of long trim tiles. Depending on the type of tile set chosen by the customer, a fireplace tile set can offer a classic, retro or chic modern look. You may use one complete tile set or fit a couple together- just be sure to guarantee a perfect match if you are fitting multiple sets together.
Suggest a modern touch
Even when working on an ornate, moulded fire surround, a modern flavour can be used as a contrast. A modern look can consist of a large, smooth finish, or the area between the fire and surround could be filled with high-gloss mosaics.
The customer may not be aware of all the tiling options that can be applied to the fireplace. It may be a good idea for you to put together a portfolio that includes various options so that the customer can see the variation available to them.
Use appropriate tiles
What type of tile should go in front of my fireplace?
Tiles which are suitable for a fireplace surround include:
Ceramic

Porcelain

Glass

Marble

Terracotta

Granite

Other natural stones
Consider the project- Is it a new installation or revamp?
If the fire, or wood burner is being installed into a new location, this increases the options for tiling designs. Presented with a blank canvas, you have the opportunity to dream up designs to suggest to the customer, whether simple and neat- or extravagant and outlandish.
Can I use tiles around my wood burner?
Fires can be recessed into the wall with a flue inside a chimney. Or a fireplace could be free-standing, with an encased flue taking another route out of the building.
Tiles could become the focal point in a room or a plain design may be used to allow the fireplace itself to be the star of the show.
A whole wall could be tiled to frame a fire. A brick pattern tile design which repeats onto the hearth could bring the whole feature into the room.
Where a free standing wood (or multi-fuel burner) is being used, there are even more tiling options to think about. Unlike an open fire, the back of a fireplace could also be tiled. With the sides and back tiled, a burner could be subtly framed by decorative tiling.
Whatever the choice of design, make sure that you are tiling onto a non-combustible board surface.
Where is the home? Is there a more suitable tile for the location?
Natural stones work well in country settings, maybe in a barn conversion. The textured finish of granite is rugged in appearance and durable- and should last as long as the house.
New-build houses may be better off with a ceramic tile.
Will the fire consist of floor tiles?
Sitting on the floor, tiles will be more vulnerable to damage. Confirm that the chosen tiles are suitable for laying on the floor before purchasing. All of the same tile materials used on the wall can also feature on the hearth.
Would you like some advice on tiling around a fireplace?
If you would like to learn how to tile around a fireplace and some gather some more information about which tiles are best for fireplaces, then contact us at UK Pro Tiling Training.