Choosing a tiling training centre
If you"re looking for a career change and your good at DIY then you"re maybe considering a wall and floor tiling course to turn your hobby into a business.
There are a few options to choose from, one is a local college where you would sign up for a two year tiling course, this is a young persons route as if you have bills to pay and mortgage payment to keep up then getting the work in and income will be top of your priorities.
College tends to go at a very slow pace and some colleges have limited resources so materials and tools might be in short supply. College also works towards a qualification and where this might sound good, a lot of your time is spent on passing the actual qualification rather than learning how to tile for a living.
Private Training centres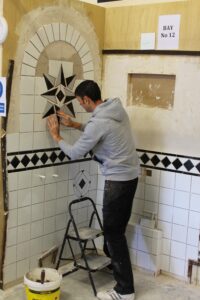 A private tiling training course is the next option; here you can fast track all the skills required for you to make it in the real world.
Like everything in life there are good and bad so it is essential if your looking at fast track tiling courses that you do your research and find out as much about the provider as possible before you part with your hard earned cash, some courses are just at DIY levels which will teach you only the basics of what to do.
Business
Many people believe that the tiling skills are everything that's required, These are the people that will fail, the business side of tiling is essential as without the knowledge of how to run a business your tiling skills wont be put to good use as you will have no customers to complete work for.
Tiling Courses
A good quality tiling course will teach you both how to do the job correctly in the fastest time possible but also teach you the self employed business elements of how to take those skills and find your customers along with pricing and measuring their jobs etc.
UK Pro Tiling Training
UK Pro Tiling Training is one of the best in the UK, trading for over 15 years where 1000s of learners from all over the world have attended, every feedback is 5 star positive so if past learners reviews are anything to go by you cant go wrong here.
Everything about tiling for a living is taught at the highest possible standards.
If your looking for a fast track tiling course then check out their website www.tiling-courses.co.uk for more information