13 Day Ultimate Pro Tiling Course
Course Cost: 
£1699 Inc VAT
Course Duration:
 13 Days
Telephone 0333 335 0604 / Mobile 07960 286 957
13 Day Ultimate Pro Tiling Course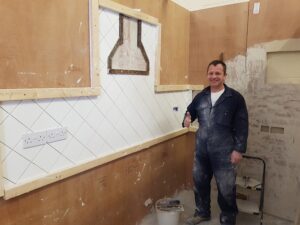 The 13-day course is our ultimate tiling course, everything we know about the tiling industry is thrown at you on this one. Darren is the owner and tutor of the business and will teach you how to become an expert tiler and how to maximise your earnings once you have left. He will show you all the tricks of the trade, from essential tiling skills, like applying the adhesive with notched trowels, using various tile cutters, to the more advanced techniques, like geometric, diamond, herringbone tiling pattens, installing wetrooms etc. He will make sure you have all the expert knowledge and information you need to set up your own tiling business and go self-employed- armed with professional tiling skills. As a result of our program and training methods, most people make their course fees back within a few weeks after training.
What's Covered
Our 13-day Ultimate Tiling Course covers all the information included in our 9 Day Advanced Ready for Work Tiling program and also features an extra advanced 4 days practising the most demanding tiling situations and with a variety of different layouts. Click on the above course content tab for more details
Ultimately, we give you the best chance of success as a professional tiler in one straightforward 13-day course.
Set up a Career in Tiling
This course can easily give you enough information to set you up for a new career in Wall and Floor Tiling on this course, we cover a vast amount of practical tiling, product and background information. We also put you in as many real-life situations as possible. There is nothing else we can teach you in tiling after completing this course, it really is everything you could need to know. You will know exactly how to advertise, price and sell your tiling work, keep accounts and pay yourself wages etc. The next step would be to go out and get paid jobs from your customers.
Course Details
Our 13-day Ultimate Tiling Course matches the information and practicality found on many 6-8 week advanced tiling courses from other training centres, we don't mess about and every minute of the day is utilised for learning.
All of our fast track course gives you the knowledge on how to earn an excellent living and be self-employed as a professional wall and floor tiler. We give you the ultimate confidence and practice to tackle anything your customer throws at you.
No prior tiling experience is necessary for this 13-day ultimate tiling course.
All the tiling training you will ever need will be covered in-depth, at this time. We also provide you with a bespoke tiling handbook written by us, featuring 50 pages (15000 words) of detailed course, background and real-life tiling information.
You do not need a longer course than this one. Following the training course, you will be capable of going straight into a paying customers house and doing whatever the job requires.
Experience
No prior tiling experience is necessary for this 13-day ultimate tiling course, many people start this course without ever putting a tile on a wall before and leave with a tiling trade qualification.
Build Confidence as a Tiler
This is certainly a confidence builder course. In fact, you'll give yourself the skills you need to get a new career in under 3 weeks! You will cover vast amounts of background knowledge and practical skills, enabling you to estimate and do your tiling jobs with confidence. Learn to lay floor tiles, apply adhesive and grout, use a damp sponge for cleaning up and using a spirit level. You will also receive quality tiling certificates documenting the different units that you have covered and passed.
Do you need training to go on a Building Site?
If you require training after completing this or any of our courses to go onto a building site and work, you can be assessed for a tiling qualification via the OSAT route. There are local fees payable to your assessor for this in your area which can generally be made in easy payments. This qualification will allow you to trade and work on all building sites.
Please ask Tracey for details and full criteria
Why Choose Us?
With so many wall and floor tiling courses available, you're spoilt for choice. But not all tiling courses are made equal. In fact, most are delivered by providers that offer a selection of courses but don't specialise in the subjects.
At UK Pro Tiling training we offer a diverse selection of unique experiences that cover everything you need to know about tiling. Each subject is delivered by a professional UK pro tiling instructor, and we aim to equip you with the knowledge to succeed in your course.
We don't just offer a basic course, and our training caters for people from all backgrounds and abilities.
Wall & Floor Tiling For DIY
Our training centre is ideal for people that want to gain some hands-on experience with tiling. By learning the tricks of the trade you can save money by performing your own professional tiling jobs at home.
We'll teach you everything you need to know about tiling and teach you some vital skills that will give you the confidence to renovate your home.
UK Pro Tiling Training for Professionals
The tiling business offers many opportunities for people that have the necessary skills, and learning at our training centre will allow you to build a successful career.
Our tiling training course covers everything from floor tiling, wall tiling, working with natural stone and practical advice about how to get a start in the industry.
Students of UK Pro tiling progress into long-term careers, whether it's opening their own business or teaming up with a national construction company.
With so many opportunities available, we're confident that becoming one of our students will be the best professional decision you'll ever make.
Find Out More About UK Pro Tiling Training Today
If you would like to enquire about our wall and floor tiling courses, please contact Tracey on 07960 286 957 (9 am – 7 pm)
Check out the huge course content, gallery and video tabs above for what you will be covering on this exciting course.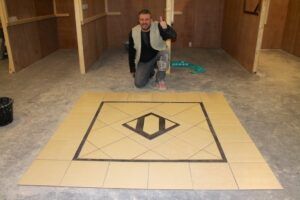 If you would like to enquire about this course, please contact Tracey on 07960 286 957 (9am – 7pm)
The 13 Day Ultimate Tiling Training Course:
This combines every course we do in one full-length 13-day course, take on board everything we offer in tiling, after this course there is nothing else to know and you can approach your customers with confidence, take your new skills into the workplace where you can set up your business and tile for a living
13 Day Ultimate Tiling Course includes the following
Our 9 Day Advanced Ready for Work Wall and Floor Tiling Courses
Plus an additional 4 days of the following practical tiling exercises ;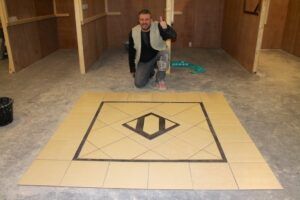 More practical wall and floor tiling experience
Diamond tiling
Herringbone Tiling
Square basket, Diamond Basket, Square herringbone
Using angle grinders
Problem solving
More bespoke design work
Different kitchen tiling designs
Awkward and difficult cutting of shapes
Plunging socket shapes out of large format tiles
Tiling with 600 x 600 polished porcelain
Using levelling clip systemsIMG_2279-900×600
More pattern design work
Confidence building
Large format floor tiling
Multiple room layouts
Speed tiling exercise
Complete brick effect kitchen.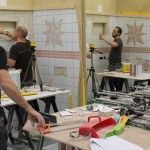 Complete box with 3 way mitres
Complete angle board on wall with floor tiles
Measure a room complete with costings20170411_101939
Cut a circle out of a whole tile
Double socket cut out of black tile
Tile a floor with larger tiles no spacers
Put 4 x 600 x 600 tiles down with clips
Complete a diamond kitchen splash
Measure the training centre floor/cost
Tile 600 x 300 brick style on floor
Price £1699
Telephone 0333 335 0604 / Mobile 07960 286 957 for more info
Domestic Work
You will receive quality Tiling Training certificates stating all the units and modules that you have covered, this is evidence of prior learning. These will be handed to you at the end of your course so you can prove to anyone you have reached a standard and level of competence which will enable you to leave our course, work and start your own business off straight away tiling peoples homes for money. Simply complete our course, then you can go out and tile for a living.
NVQs
Building site work
If you require an official training after completing any of our courses to go onto a building site and work, we have teamed up with the colleges for you to be assessed for a tiling NVQ L2 qualification, they will talk you through the fees and requirements for this assessment.
Please ask Tracey for details
Frequently Asked Questions
At UK Pro Tiling we have compiled a complete list of commonly asked and frequently asked questions.
Head over to our frequently asked questions page to learn more.