Types of trowel for tiling
The Tiling Job
If you are undertaking a new tiling project then it is essential that you choose the correct trowel for the size of tile that you are using.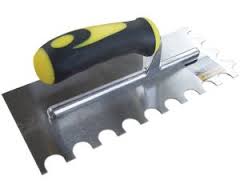 Tile sizes
Tiles come in all different sizes now from very small to extremely large and therefore getting the right amount of adhesive on the back is essential to make the tiles stick to the wall or floor.
The smallest tiles are mosaic tiles, which are usually about 1 inch square and come on a sheet covering approx. 12 x 12 inch square or 300 x 300mm
The largest tiles can be up to 1.2 metres long or1200mm x 600mm wide, so which trowel notch do you use where.
Well as a general rule of thumb the larger the tile the larger the notched trowel you would use to fix them.
Trowel sizes
3mm square notch
6 mm Square notch
8 mm square notch
10mm square notch
12 mm square notch
20mm square notch
3 mm trowels are often used for fixing mosaic tiles as this produces a very thin bed of adhesive which means that there is less chance of the adhesive coming through the tiles when fixing.
After that the mm size of the notch roughly equates to the inches of tile being
fitted plus another 2 inches for example 6mm notch = 6-8 inch tile, 8mm notch = 8-10 inch tile, 10mm notch = 10 -12 inch tile etc, a12mm notch would be used for any tile over 12 inches.
This is a general rule and things can change due to the flatness of the surface you are tiling onto so this information is for general guidance only, if the surface is not flat then you can increase the notch to the next size to that would be generally used.
For floor tiling a minimum of 10mm trowels would be used to ensure there is enough contact on the back of the tile to make sure there are no voids.
When troweling your adhesive onto walls and floors make sure you trowel at an angle of 45 degrees and press hard scraping the wall or floor only to leave the notch of adhesive.
When placing a tile move it out 5mm then back to make sure your adhesive gets a good contact with the tile.
Good quality tiling courses can show you the correct methods of tile application. UK Pro Tiling Training offer fast track professional tiling courses which gives you the correct methods of application and also the background knowledge to do the job correctly, for more information visit www.tiling-courses.co.uk